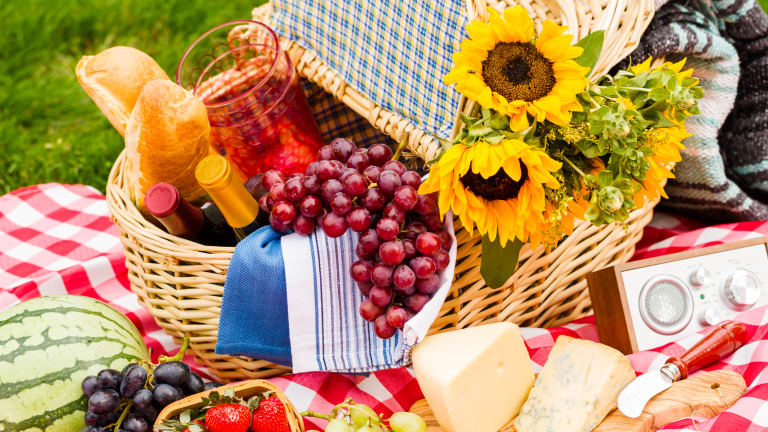 Follow These Tips And You'll Have The Best Picnic Ever!!
1. Keep it simple. Make a few items and make them well.
2. Don't bring too much food. No one wants to shlep a half-full cooler back home once the picnic is over.
3. Freeze some drinks before. The drinks will double as coolers and also provide refreshing quenchers on a hot summer day.
4. Non-food picnic essentials:
sunglasses
hat 
sunscreen
bug spray
antibacterial wipes
tablecloth (disposable tablecloth makes for easy clean up)
a flashlight (you never know)
napkins
balls and Frisbees to entertain the kids (and adults) at the picnic
blankets or beach chairs
5. For dessert: 
Avoid: ice cream, ices, and cakes. They're sticky, messy, and at tract bugs. 
Bring: fresh fruit. Precut, of course.
6. Slice and dice as much as you can at home.
7. Plan ahead. The more you prep at home, the more relaxing the picnic will be. Make a list of everything you need, keep it on your fridge and cross off items as you prep. Plan your picnic spot ahead of time. Make sure the park is open and you have a clear idea where you will picnic in the park you choose.
8. Think finger foods and foods that travel well. Wraps are the perfect finger food. Use wax paper to keep wraps fresh and whole.
9. Food safety. Do not travel with par-cooked food. Either cook it completely, or if you plan to barbecue, keep protein stored at a safe temperatures and cook on your grill once you get to your picnic spot. Keep the cooler full of ice packs.
10. Bring lots of water