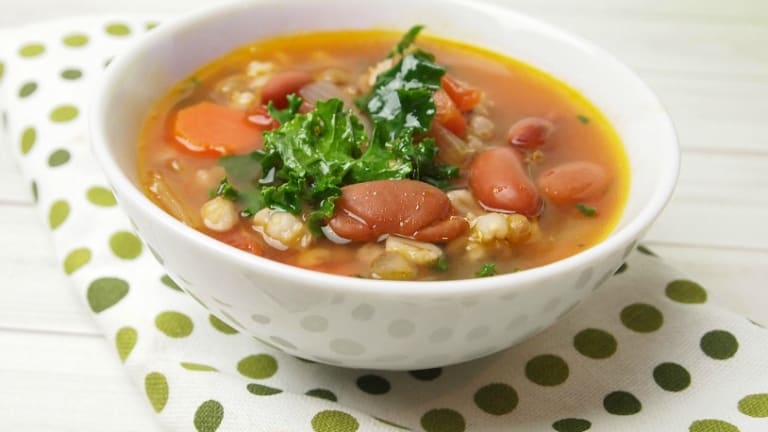 Barley Lentil Vegetable Soup: Review
Oh wow! We survived the annual fall rush, holidays, cooking soup, going back to school, the seasonal transition from beautiful summer to a glorious fall, making more soup, getting back into fall/winter routines, getting used to Shabbat coming earlier and earlier and earlier each week, and of course finding more ways to make soup. ;)
Soups can be some of the most health filled meals, packed with nutrition and warmth. Easy to pull together, great to make up in large batches and freeze, and PERFECT for crockpots!
Something we always need (ok, at least I need) are some soup'spirations - soup inspirations. We all have a few recipes that we hold in our heads and just throw together. But what if you've made that soup already ... for the last 5 batches of soup?!?! Maybe I'm the only who does this, who knows. Either way I appreciate a good, hearty soup recipe to give my soup repertoire a face lift. It's amazing how someone else's "normal" recipe can be a nice change up for your own.
Tamar's recipe for Barley Lentil Vegetable Soup was a hit and a great change. It is hearty, healthy and is a great fall food. I LOVE the lentils and barley together - my "normal" soup recipes have barley in one soup and beans/lentils in others, I never really mixed the two. But I love the thick, smooth texture that only barley can add to a soup and then this recipe combines the beans/lentils to give a nice protein punch. And then we have Tamar's special way of hiding health into her recipes; she is the master of including kale into recipes (like this one here) and making those recipes ones that you actually want to eat. What can I say, she's done it again with this recipe.
So the original recipe gives you two ways to serve it:
1) Make the soup base and then let people add in what they want or leave out what don't want.
2) Mix everything into one big pot, then serve it.
I chose option 2, it was the easiest for my situation to serve a few people quickly. But option 1 also sounds like a great idea! Especially when trying to cater to different dietary restrictions (i.e. gluten free...etc)
This is a wonderful fall and winter option. You could sauté the veggies up and then throw it all into a crockpot if you'd like. This soup also reheats well, I always prefer soups the second time around as the flavors are always deeper and more blended. 
Great recipe again! I know you probably ask yourself when you read my post (there are people out there reading them right? :D ) "Why doesn't she ever give a recipe a bad review?" But that's because I've not come across a recipe on this site that I didn't like or that didn't turn out good ... well except one ... maybe I'll share that story one day.
All the best!
X