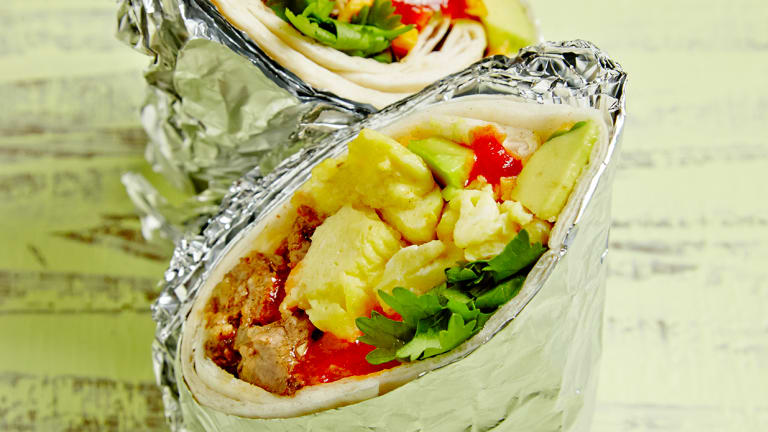 Breakfast Burritos That Can Be Eaten Any Time Of Day
I'm a big believer in eating a good breakfast to start your day. A good breakfast ensures a more energetic and productive day. 
A healthy, high-protein, low-fat breakfast provides the fuel you need to get going in the morning. The problem is that most mornings are really busy. When your alarm goes off (after pushing snooze seven or eight times), you have to take a shower, get dressed, find your stuff, complete a little task or two, and if you have kids, help them get ready for the day as well. 
To put it simply, most mornings we don't have time to prepare such a breakfast. That's why I suggest these breakfast burritos. 
These breakfast burritos are not spiffy. These breakfast burritos are not gourmet. These breakfast burritos are not haute Mexican cuisine. 
These breakfast burritos are exactly that: breakfast burritos. 
BREAKFAST BURRITO WITH CHORIZO AND EGGS
Hearty, filling, and perfect even when made in a jiffy. The fabulous thing about BBs are that they really are an entire meal rolled into one. "Winner, winner, grab- and-go dinner."
I'll start with the selling points: they freeze beautifully, they are perfect for on the run, they can be whatever you want them to be, and I promise you can't mess it up. You have my word on that. Unless you burn the eggs, which I hope you won't.
I'm not sure if I love that I can hold my entire meal in my hand or that I can prepare it way in advance and heat it up for a portable meal on the go. How much better can you get than three (count 'em, 1,2,3) proteins or more, stuffed into a hot tortilla with some serious spice. 
And who says a breakfast burrito has to be for breakfast? I kind of like the sound of an all-in-one dinner.
MORE: Kosher Tex Mex 
Burritos remind me of something my grandmother used to say. It's what's on the inside that counts. In this instance she couldn't have been more right. But what is great about these is that they are really your canvas to throw on whatever you love—that's what makes them no fail and so delicious.
The pictured burrito contains scrambled eggs, chorizo, Daiya (dairy-free) cheese, sliced avocado, and salsa. Other ingredients you could consider include:
sautéed vegetables
hash browns
pico de gallo
facon
guacamole
black beans
refried beans
lettuce
cabbage
pulled meats
sausage
rice
fried eggs 
The combinations are endless, which basically means you can make this every night for a week with different fillings and get away with having an original "dinner" every night.
#SUPERMOM.
Make them. Freeze them. Thank me when you're on the run.
Article published in JOY of KOSHER with Jamie Geller Fall 2015. Subscribe Now.