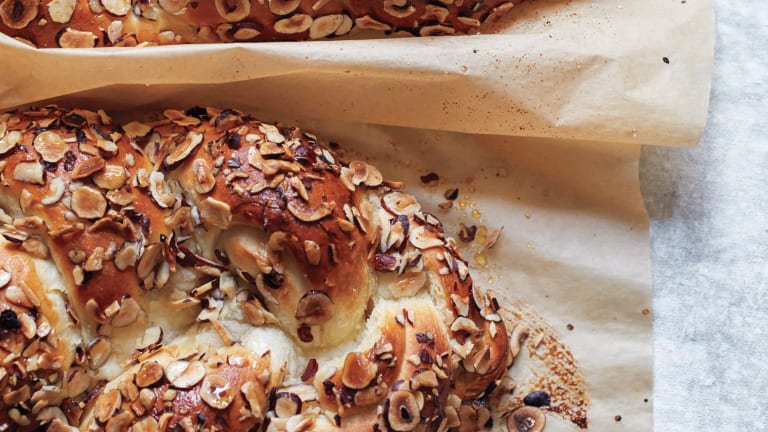 Cookbook Spotlight: Breaking Bread
Israeli baking encompasses the influences of so many regions—Morocco, Yemen, Germany, and Georgia, to name a few—and master baker Uri Scheft seamlessly marries all of these in his incredible baked goods at Lehamim Bakery in Tel Aviv. 
Now, you can get the same flavors in your own home no matter where you live. In the new cookbook, BREAKING BREADS: A New World of Israeli Baking, Scheft takes the combined influences of his Scandinavian heritage, his European pastry training, and his Israeli and New York City homes to provide sweet and savory baking recipes that cover European, Israeli, and Middle Eastern favorites. Scheft sheds new light on classics like challah, babka, and ciabatta—and provides his creative twists on them as well, showing how bakers can do the same at home—and introduces his take on Middle Eastern daily breads like kubaneh and jachnun. The instructions are detailed and the photos explanatory so that anyone can make Scheft's Poppy Seed Hamantaschen, Cheese Bourekas, and Jerusalem Bagels, among other recipes. With several key dough recipes and hundreds of Israeli-, Middle Eastern–, Eastern European–, Scandinavian-, and Mediterranean-influenced recipes, this is truly a global baking bible.
Scheft likes to honor old traditions while imbuing them with the new and so can you. Test out these three recipes from the new book, just a small sampler of the breadth of recipes you will find in this fantastic cookbook. 
Think of marzipan challah as a cross between an almond croissant and a loaf of challah. Marzipan is a kind of almond paste popular in Israel and during Passover and often seen colored and shaped as common fruits. 
Seasonal fresh fruit always complements babka—so you can try plums or apricots in place of apples and make this any time of the year. The dough is a simplified version of the one made at Breads Bakery and Lehamim Bakery, but it still makes a very rich and delicious babka. 
A savory babka? And why not? To fill the babka, use labne, which is ultra-rich strained yogurt that has a wonderfully creamy texture and tangy flavor—not unlike sour cream. Chiles, feta cheese, and pine nuts add to the savory appeal.

Excerpted from Breaking Breads by Uri Scheft (Artisan Books). Copyright © 2016. Photographs by Con Poulos.
Want more recipes delivered straight to your inbox? Sign up now for the JOY of KOSHER weekly newsletter.