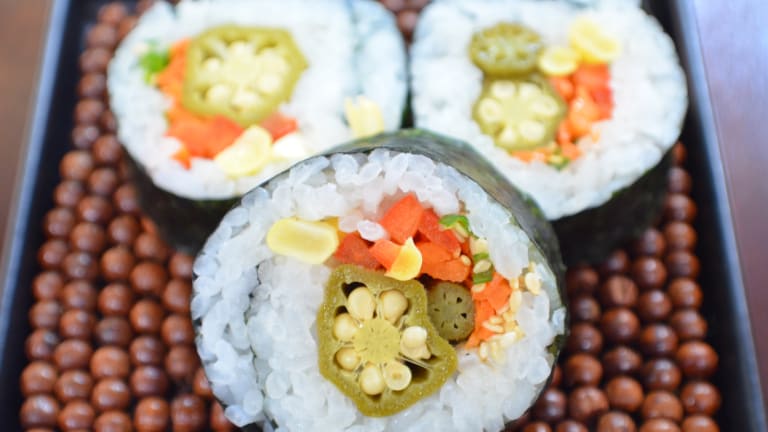 Cookbook Spotlight: Vegetarian Sushi Secrets
It seems everyone likes sushi, but not everyone likes the idea of raw fish. Then of course there are vegetarians and vegans who won't eat fish in any form. The new cookbook, Vegetarian Sushi Secrets: 101 Healthy and Delicious Recipes, is filled with ideas for unique and creative sushi rolls without the fish. 
Even if you love sushi with fish, this a great way to get more veggies in your diet and the rolls are great for pack and go lunches when you don't have refrigerator.
Marisa Baggett is an American sushi expert.  She has been working passionately for years to perfect sushi recipes that take full advantage of the freshest garden vegetables, herbs, tofu, mushrooms and spices available at your local farmer's market or co-op. 
This vegetarian cookbook offers completely new ways for veggie lovers to enJOY sushi. This is the ultimate farm-to-table book with creative Asian flair! Marisa not only shows you how to make the usual thick and thin rolls but other types of sushi that are just as delicious—and even easier to make!

Here is a sneak peek into this unique book starting with a recipe and guide: How to Make Perfect Sushi Rice.  After all it all starts with the rice.  
Don't be put off by the 1 ½ hours total time needed to complete this version of Sushi Rice. Most of it is hands-off time. For your patience, you will be rewarded with perfectly flavored rice that spreads easily.  
Once you have your rice it is time to get creative and Marisa will take you on an adventure if you let her. 
The use of pickled okra has become somewhat of a signature throughout my sushi career. It is a nod to my Southern roots and I almost always feature it in some form. If the corn is very sweet and fresh, you can forego boiling it.   
Japanese or English cucumbers may seem like a splurge, but they are definitely worth it for these single feature rolls. If using garden cucumbers, peel away the bitter skins.  
If this recipe yields more dumplings than you can eat in one sitting, place the rest in the freezer. Fully cooked dumplings freeze well and can be microwaved straight from the freezer for an anytime snack.
Want stories like this delivered right to your inbox? Sign up now for our *free* JOY of KOSHER Newsletter.