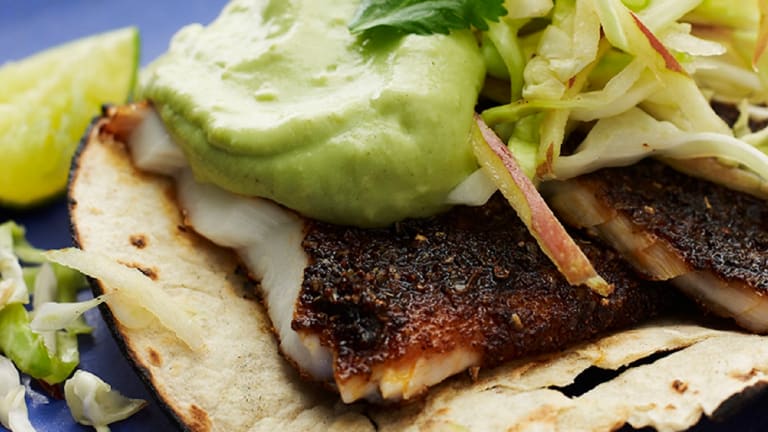 Cooking with Joy: Blackened Tilapia Tacos with Cumin Avocado Sauce
I'm not a big fan of tilapia. It tastes slightly muddy to me, but my family likes it, so this recipe was a go. Maybe one day I'll try it with halibut or wild perch. (Look at me naming different types of fish like a pro).
Sour cream is something I have not had any luck getting my family to eat (I'm not so excited about it either), so it's something I avoid whenever possible.
When I first saw the name of this recipe "fish tacos", I have to admit I was suspicious. I was not sure how it was going to turn out, but I'm glad I gave it a try. The avocado dressed with lime and cumin is actually creamy and refreshing! The cumin is a nice surprise, and when you look at it, you think guacamole.
Blackened Tilapia Tacos with Cumin Avocado Sauce, page 230
Dress it up/Make it a Meal: Tilapia Tacos with Apple Cabbage Slaw, page 231
I ended up using corn tortillas because I was rushing through the store and only realized I had the wrong ones by the time I got home. Oh well.
Hubs and I loved the spice! After all, it does have cayenne in it. It was a little too much for the kids though, so I had to make some compromises.
I cut one of the pieces of tilapia into nuggets, and coated them in the spices (no cayenne of course) and some cornflake crumbs. I then pan fried the nuggets until golden brown.
Major success with the kids. They even ate it with the avocado!
Note: This blog series, Cooking With Joy, is meant to be a companion to the cookbook, Joy of Kosher: Fast, Fresh Family Recipes, by Jamie Geller. Most of the full recipes are only available in the cookbook.