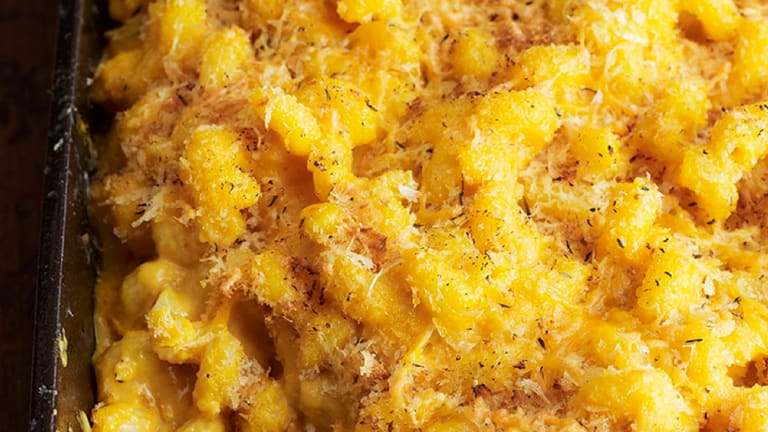 Cooking with Joy: Butternut Squash Mac and Cheese
With all due respect to Jamie Geller, I don't know how the prep for this recipe is only supposed to be 5 minutes, like she claims in the cookbook. 
I guess, if the pasta was already cooked and the squash was defrosted, it would take only 10 minutes, but since I was starting from scratch, it took me a good 20 minutes to prep before it was ready to be put in the oven. 20 minutes is not so long for a whole meal to be prepped, but I was expecting it to be shorter.
The recipe called for kosher Gruyere cheese, which I couldn't find, so while standing in front of the cheese section I whipped out my smart phone to research alternative options. The consensus was Swiss cheese… easy enough.
Making a cheese a sauce is always fun, especially watching the rue thicken and then adding the cheese and spices...yummy...
However, be prepared for a bunch of dirty dishes. I prefer to make my week night meals with the fewest dishes possible since I don't have a dairy dish washer. (Aside from Hubs).
But at least the end result was luscious and creamy! The color was beautiful and the bright orange made the kids want to dig in! Of course the extra beta-carotene was an added bonus ;)
Butternut Squash Mac 'n' Cheese, page 197 
DRESS IT DOWN Butternut Mac 'n' Cheese Muffin Cups
Note: This blog series, Cooking With Joy, is meant to be a companion to the cookbook, Joy of Kosher: Fast, Fresh Family Recipes, by Jamie Geller. Most of the full recipes are only available in the cookbook.