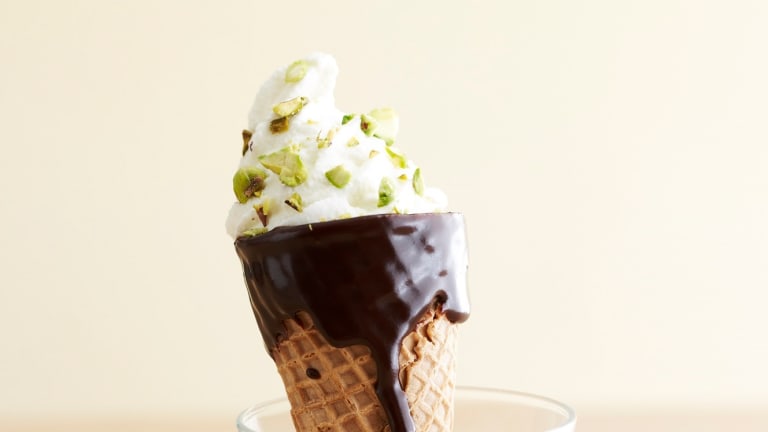 Cooking With Joy: Cannoli Egg Rolls with Chocolate Sauce
Now that I've been making a lot more desserts lately, people are constantly telling me that they've changed careers and are now professional taste testers. I take that as a *hint hint*, winky face. So after I made these Cannoli Egg Rolls, I made some rounds of deliveries and got lots of positive feedback. While my uncle ate them, he was speechless and kept on saying "wowww". I guess that means these are pretty good. He even suggested making them mini so he could have more of them without feeling guilty.
The texture was really nice, with a sweet cheese filling and a crunchy dough on the outside. I ended up using the zest of 1 ½ small lemons and thought that was perfect, but make sure you go according to your own taste. I didn't think it was too sweet and the pistachios added a nice crunch. Also, make sure you seal the eggrolls really well and don't wrap them too tightly because then they can explode while frying. Because the cheese is wet, when it starts to ooze out there is some major sizzling going on, which was not fun at all to clean up. I ended up sprinkling them with some confectioner's sugar and a chocolate syrup drizzle. In the words of my father- these are a "keeper"!
Cannoli Egg Rolls, page 311 
Dress It Up: Cannoli Cones, page 312
Cones aren't just for kiddies. These grown-up cones overflowing with sweet ricotta make me feel young(er). 
Dip the tops of 6 sugar cones in the chocolate sauce, letting the excess run down on the inside. Fill a pastry bag fitted with a wide tip, or a resealable plastic bag with a corner snipped off, with the ricotta filling. Pipe the filling into the cone and sprinkle with extra chopped pistachios for garnish. 
Variations: Finish some cannoli cones with a cherry on top. Also try filling sugar cones with fresh whipped cream and berries
Note: This blog series, Cooking With Joy, is meant to be a companion to the Joy of Kosher with Jamie Geller cookbook. Most of the full recipes are only available in the cookbook.    
Recipe review contributed by Ava Zucker, aka The Blonde Banana:
Ever since Ava was little, her passion has always been to cook and bake. She followed her dreams and opened The Blonde Banana, baking and selling desserts for all occasions. Follow Ava on Instagram and Facebook.