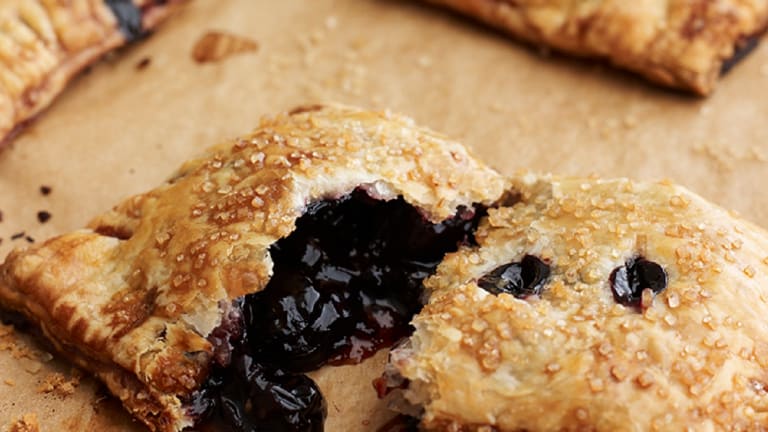 Cooking With Joy: Cherry Bourbon Hand Pies
I couldn't wait to finally try this recipe! Sounded interesting with the bourbon. First of all, these were pretty simple to make and took no time at all, which is always a good thing. Plus, they looked gorgeous! I would even make these for a party with a scoop of vanilla ice cream and some bourbon drizzled on top. Mmm…  
I loved that the cherries kept their shape, so you actually got a whole cherry in each bite and not mush. When I tasted the cherry mixture raw, you could really taste the bourbon. But once it was cooked, most of that flavor cooked out. So maybe add a little more than the 6 tablespoons that the recipe calls for.
 Also, be careful when you fill these hand pies. Make sure to mix your cherry mixture thoroughly before putting it on the dough because the sugars and juices will settle to the bottom of the bowl- and that's where all the flavor is! Plus, make sure not to add too much of the juice because it will make it hard to close the pies, and then it ended up oozing out while they were resting in the fridge.
 I also enjoyed making them in different shapes and sizes. I wanted some to look like those big triangle turnovers you get in a bakery. Others I made in a triangle like in Jaime's picture. But I think I liked the mini ones the best.
 My family isn't so into cherries, so next time I would try these with different fruits, such as apples, peaches, or blueberries. Mmm, that sounds good.
Note: This blog series, Cooking With Joy, is meant to be a companion to the JOY of KOSHER with Jamie Geller cookbook. Most of the full recipes are only available in the cookbook.
Recipe review contributed by Ava Zucker, aka The Blonde Banana: 
Ever since Ava was little, her passion has always been to cook and bake. She followed her dreams and opened The Blonde Banana, baking and selling desserts for all occasions. Follow Ava on Instagram and Facebook.