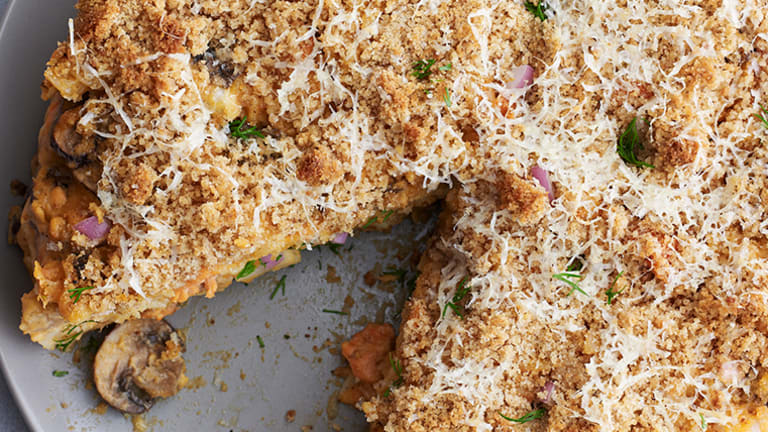 Cooking With Joy: Classic Tuna Noodle Casserole
Tuna Noodle Casserole NEVER made an appearance in my house growing up. The closest thing I ever had was a tuna melt, and that's not even close! When I first started cooking for my family, I occasionally would open a can of condensed mushroom soup and make a cream sauce to pour over noodles. Hubs, always looking for a protein, would open a can of tuna or sardines to add in. Voila! Hubs' version of Tuna Noodle Casserole. I must admit, this version is an incredibly elevated delicious version.

Since this recipe calls for cooked pasta and making a cream sauce, for time management sake, get your water boiling first and then start on all the other steps.

The making of the rue is a great fun cooking trick! I know it is not that exciting to everyone, but considering I don't do it that often, the procedure is cool to me. You could call the kids over and let them watch the "magic" of the sauce thickening right before their eyes. The kids will surely want to taste the casserole after seeing that!

The whole milk, butter, cheddar, and sour cream creates a velvety rich sauce. The addition of the acidic Dijon cuts the richness of the sauce just perfectly. After mixing the noodles with the sauce in the casserole dish, I topped it with the combo of breadcrumbs and shredded Parmesan Cheese and put it in the oven. The Casserole came out great! Though it was too rich for the kids, Hubs and I thoroughly enjoyed it!
Classic Tuna Noodle Casserole p. 225 
DRESS IT UP Creamy Salmon and Tuna Noodle Pie
Note: This blog series, Cooking With Joy, is meant to be a companion to the Joy of Kosher with Jamie Geller cookbook. Most of the full recipes are only available in the cookbook.