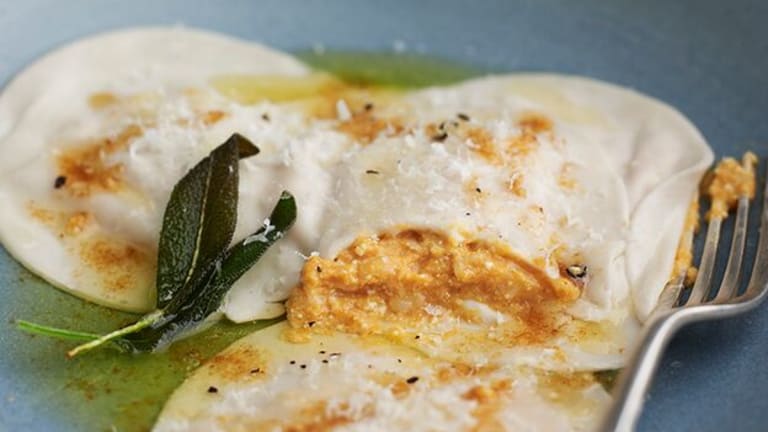 Cooking with Joy: Pumpkin Spice Ravioli with Brown Butter
Here I went for a recipe variation, haven't done that in a while. As per Jamie's recommendation I swapped out the pumpkin for butternut squash. My family prefers pumpkin in their pie, but not in their ravioli! :) 
As for the dough, I love wonton wrappers. When I feel like I want to patschke (not often), I make my own beef wontons. They are SO good. I mix ground beef with soy sauce and scallions, put the mixture into a wonton wrapper, boil, and DONE. Aside from the standing-at-the-stove part, they are very simple and RIDICULOUSLY good! 
Now back to the recipe at hand. This was definitely time consuming and a bit of a patschke. Putting together the filling was the easy part. Stuffing the ravioli and watching them cook in the water was not as simple. Jamie warned that some of the ravioli would stick together, and mine did. I didn't even get a chance to make the brown butter—  the Natives were getting restless! So instead, I just drizzled some olive oil over the top. 
I really loved the flavors of the Parmesan, nutmeg and squash, Hubs not so much. At some point I really do want to try to prepare it again with the brown butter. 
A few weeks later we went to friends for a meal and what did she have on her table? A "dressed down" version of baked pumpkin penne— I guess she likes the cookbook too!
The baked pumpkin penne was a true crowd pleaser, and she said it was super EASY to prepare. But here is the best part— the kids were so charmed by the fun orange color, that they didn't even know they were eating pumpkin!   
Get the recipe here: Pumpkin Spice Ravioli with Brown Butter, Page 236
Note: This blog series, Cooking With Joy, is meant to be a companion to the cookbook, Joy of Kosher: Fast, Fresh Family Recipes, by Jamie Geller. Most of the full recipes are only available in the cookbook.