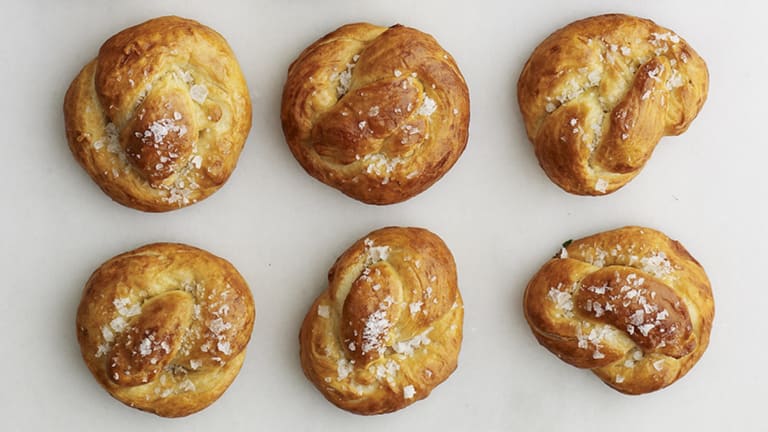 Cooking with Joy: Sea-Salted Soft Challah Pretzel Rolls
Pretzel rolls are all the craze right now, and for good reason. They add an interesting twist (pun intended) to any sandwich. Even Dunkin Donuts has a version. Hubs and I took the kids out to our favorite burger place, and I got a chicken sandwich on a pretzel bun. It was really good, so I asked the server if I can buy a bag of the buns. He said no, but then I remembered that I was going to make these, so I didn't feel too bad.
First you have to have 2 lbs. of Jamie's Challah Dough on hand for this recipe, so a little planning is needed.
I had a few mishaps with this recipe, but things worked out okay in the end.
When I was splitting the dough and making the actual rolls, I think I made them a little too large. My first clue was the fact that I didn't end up with 16 rolls. 
When it came to the cooking time, 10 minutes didn't cook them through all the way. I had to put them back in for 2 minute intervals a few times until everything was baked through. I ended up baking them for about 18 minutes total.
In the end, I had large "pretzel rolls" that didn't really look like pretzels (they didn't get that nice dark brown), but really smelled and tasted like pretzels.
We didn't care much about the funky shape of the rolls (not very pretzel-esque), but they tasted good, so we ate them.
Since making this version out of Jamie's Challah dough, I have learnt how to make soft pretzels at home out of a crazy quick dough. I have made them a few times, they always taste great, I just still can't figure out how to get them into the classic pretzel shape. If anyone has any tips, please let me know!
Get the Recipe: Sea-Salted Soft Challah Pretzel Rolls, page 340
MORE: Jamie's Favorite Challah Dough Hacks
Note: This blog series, Cooking With Joy, is meant to be a companion to the Joy of Kosher with Jamie Geller cookbook. Most of the full recipes are only available in the cookbook.