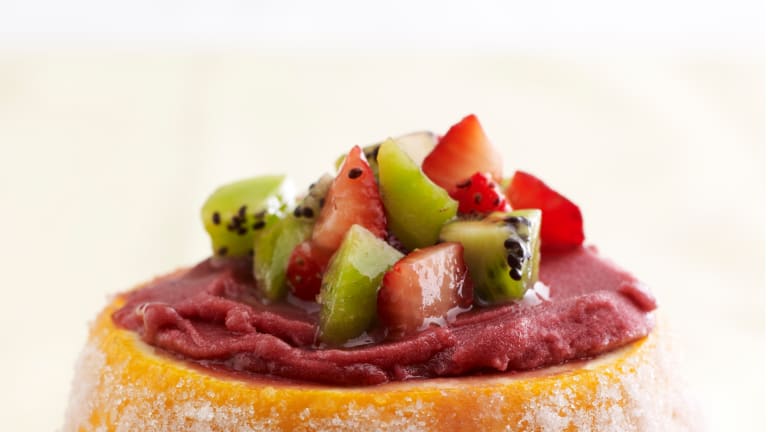 COOKING WITH JOY: Sorbet Cups with Strawberry Kiwi Salsa
 If I had to think of one word to describe these sorbet cups, it would be gorgeous… and delicious… and easy... Ok that's more than one word, but who's counting right? 
 I definitely would make this again. Honestly, I was nervous about hollowing out the orange, but it was much easier than I thought. The grapefruit spoon was a big help. Also, I didn't really see a point of rolling the oranges in sugar. To me it made it look like freezer burn. But that's just my opinion. For the sorbet, I chose two different flavors instead of just one to make it different. Raspberry and mango were delish and went well with the salsa. The acidity of the lime in the salsa was nice because it cut through some of the sweetness of the sorbet. But be careful how much lime juice you add- don't add all of it at once. I only used the juice of half the lime and that was enough for me. Also, I would recommend making the salsa before serving because you don't want the kiwis to get a pinkish tinge.
 I got so many compliments on these sorbet cups! My father even said they could be served at a wedding! I'm guessing that means he liked it!  
Sorbet Cups with Strawberry Kiwi Salsa, page 255 
Dress It Down: Sorbet and Salsa, page 256
Note: This blog series, Cooking With Joy, is meant to be a companion to the Joy of Kosher with Jamie Geller cookbook. Most of the full recipes are only available in the cookbook.
Recipe review contributed by Ava Zucker, aka The Blonde Banana:
Ever since Ava was little, her passion has always been to cook and bake. She followed her dreams and opened The Blonde Banana, baking and selling desserts for all occasions. Follow Ava on Instagram and Facebook.