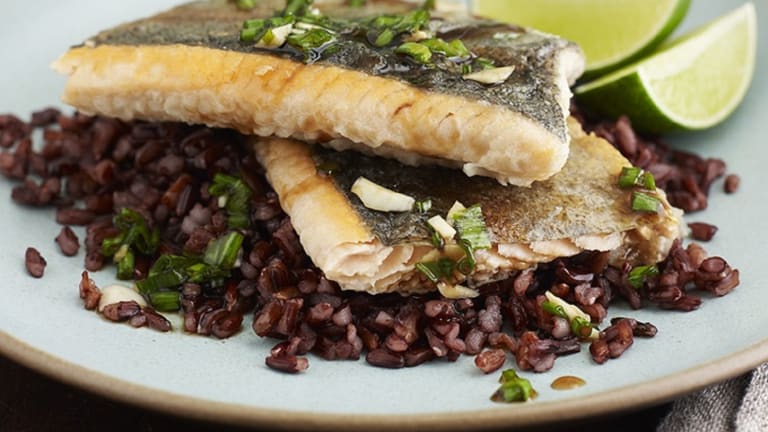 Cooking with Joy: Teriyaki Scallion Rainbow Trout
I have a confession to make, I had never tasted Trout before this. I called the fish department at Evergreen to make sure they had rainbow trout, since they only carry the freshest fish. As I have mentioned before, I have a serious fear of fish. 
Luckily the store told me the trout was coming in the next day. When I brought out the fish for the prep, both hubs and the kids had the same questioning look on their faces. Why wasn't the fish rainbow colored? Go figure.
The prep was really quick and easy. The fish cooked nicely, and smelled really great. I was a little nervous before I took the first bite, but I was pleasantly surprised by the mild flavor and meaty texture. The flavor of the fish itself is pretty plain, so the scallions and teriyaki really give this dish its personality. The crispy edges of the fish from the teriyaki sauce browning in the pan were a treat. I love it when a sauce sizzles down to that concentrated flavor.
I've added another type of fish to my repertoire, YAY!  
Get the Recipe: Teriyaki Scallion Rainbow Trout page 227
Dress it Up: Whole Stuffed Rainbow Trout, page 229
Note: This blog series, Cooking With Joy, is meant to be a companion to the Joy of Kosher with Jamie Geller cookbook. Most of the full recipes are only available in the cookbook.