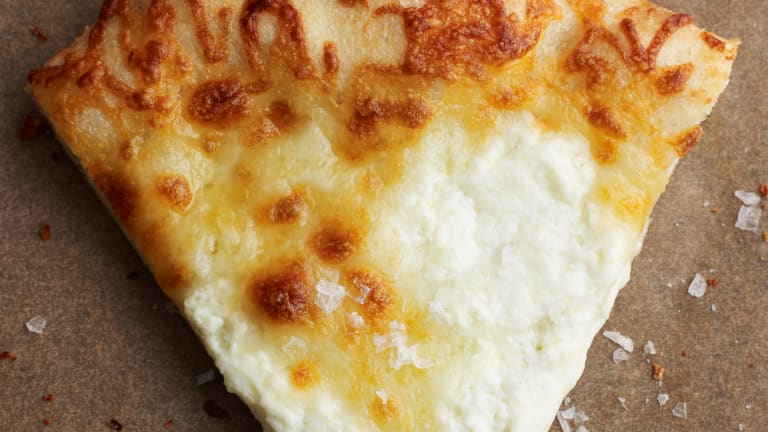 Cooking With Joy: White Pizza
As you have seen in my past Cooking With Joy posts, the Joy of Kosher With Jamie Geller cookbook, always has a dress it up and dress it down version of each recipe. Jamie's White Pizza recipe is the dress it down version of her Blue Cheese, Pear and Arugula Pizza. What's special about the dress it down White Pizza is that she includes an additional dress it up version that happened to be little more enticing for us. The dress it up White Pizza had the delicious addition of slices of sauteed garlic and fresh torn basil leaves. I have basically used the idea of a "dress it up, dress it down" version for most of the recipes to add my own twist.

As someone who spent quite a few years in yeshiva, Hubs is someone well versed in the art of microwave cooking. Rather than standing by the stove to saute garlic for the pizza, Hubs showed me a cool short cut. Chop up 3-4 cloves of garlic, and put into a microwave safe bowl. Drizzle 2 tablespoons of olive oil over the chopped garlic and microwave for 45 seconds. Done! I used the garlic oil to coat the dough before adding the cheese, ricotta, and Basil. Margarita pizza is our favorite! I made a regular pie for the kids, and Hubs and I enjoyed the white pie with the marinara on the side. YUM!!
Blue Cheese, Pear, And Arugula Pizza p. 245
Note: This blog series, Cooking With Joy, is meant to be a companion to the Joy of Kosher with Jamie Geller cookbook. Most of the full recipes are only available in the cookbook.
{This blog series is brought to you by Evergreen Kosher Market, your neighborhood kosher supermarket. All content, ideas, and words are my own. Thanks for supporting these sponsors that allow us to create new and special content like this for JoyofKosher.com.}