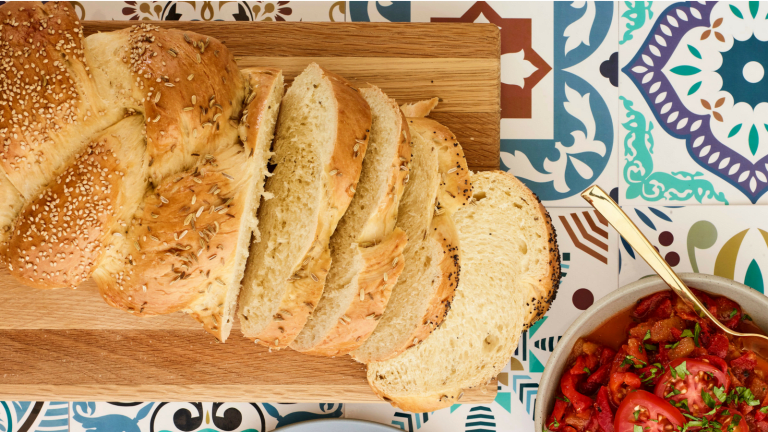 Defining Jewish Cuisine with Joan Nathan
1. WHAT INSPIRED YOU TO BEGIN WRITING COOKBOOKS ON JEWISH CUISINE AND CULTURE?
In the early 1970s, I went to Israel to live and met then-mayor Teddy Kollek, for whom I worked as foreign press attaché for almost three years. By learning about all the different ethnic groups, I also learned about the diversity of Jewish food. Until then, I really only knew about my mother's roast chicken, her matzo balls, and jarred gefilte fish. That was Jewish food for me. My time in Jerusalem opened me up to the delicious variety of Jewish food throughout the world. For every recipe I tasted, there was an ethnic or human story to go with the food. 
2. HOW LONG DID YOUR NEW BOOK, KING SOLOMON'S TABLE, TAKE TO COMPLETE? 
This book, with its more complicated stories of food throughout the world, took about 6 years to complete.
3. WHAT IS THE MOST EXCITING ASPECT OF WRITING AND WORKING ON A BOOK?
For everyone it is different. For me, the most exciting aspect is meeting people, hearing their story and how it connects to the story of Jewish food. The best part is discovering hidden stories of the unsung, undiscovered heroes of Jewish food and sharing them with my readers. 
4. ANY ASPECT OF COOKBOOK WRITING THAT SURPRISES PEOPLE?
I think people are surprised at how many times you have to test recipes and the amount of time and effort you put into making them acceptable for your readers. It gets more and more difficult to find new recipes, with all that is out there on the internet and in the multitude of cookbooks published today. But when you find a recipe like the scourtins, the shortbread olive cookies from the South of France that I serve as appetizers, I am so happy to discover them for my readers! 
5. HOW WOULD YOU DEFINE JEWISH CUISINE? 
I think of Jewish food in three ways. 
First and foremost, unlike French or Italian cuisine, it is a food defined by the dietary laws, rather than by the land. Jewish food is a roving cuisine. Even if diners are not kosher, the laws are in the back of their heads. 
Secondly, Jewish food has always been a cuisine of becoming. By that I mean that Jews have always been in search of the new and have paid particular attention to what they eat. Jews are really obsessed with food – we've had vintners, bakers, grain purveyors, etc. since the early days of Judaism. 
The third characteristic of Jewish food is its adaptability. Because Jews have been expelled from so many places and have had to find new homes, they have adapted to new cuisines. For example, in my new book, I went to El Salvador to visit the 100 or so Jewish families who live there. At a Shabbat dinner, a woman brought yucca pancakes with cilantro cream instead of potato latkes. In El Salvador, yucca is more readily available than potatoes so they select that instead. The same can be said for gefilte fish – salmon in Alaska, whitefish in the Midwest lakes, haddock in Maine, shad and rockfish in Maryland. 
6. IS THERE A DIFFERENCE BETWEEN TRADITIONAL JEWISH FOOD AND MODERN JEWISH FOOD?
For sure! When I think about eating today, I also think about three types of eating for everyone, Jews and gentiles alike. First of all, there is all of our everyday food – our diet food, family cooking, routine food. Then there is what I consider our dress up food, the kind of food we all make for guests and eat at restaurants. Then there is traditional, or what some call modern Jewish food.  It's traditional because it's the same dish your mother made – old-fashioned kugels, briskets, what have you. Almost every recipe can be made better but there has to be a reason to make it better. You can take an old recipe like kasha varnishkes and put a different spin on it, like replacing the bowtie noodles in the dish with homemade lasagna dough, and adding shiitake mushrooms and loads of sautéed onions, to make a fabulous recipe for Sukkoth. I don't know if that's modern Jewish cooking, but it is definitely good, traditional Jewish cooking. 
7. HOW HAS JEWISH FOOD CHANGED SINCE YOU WROTE YOUR FIRST BOOK?
My first cookbook, The Flavor of Jerusalem, came out in 1975. People were using lots of processed food in their recipes. There were fewer cookbooks, no internet, very few chefs on TV, no Food Network, and almost no interest whatsoever in the diversity and authenticity of Jewish food. We are also better cooks today so our recipes are much better. 
8. WHAT ARE YOUR MOST INDISPENSABLE COOKING TIPS AND TRICKS?
Hmmm. Lots. I have a pantry section in King Solomon's Table where I give away lots of them. When I buy dry chick peas, as soon as I go into the house, I soak them in cold water overnight. Then I put them in 2 cup bags and freeze them so they are available whenever I want to make hummus or other things. I also show you how to make preserved lemon, zhug, harissa, etc. These are all in my pantry and I love to use them. 
9. WHAT ARE YOUR FAVORITE FOODS TO COOK FOR SUKKOT?
I love to make the kasha varnishkes lasagna, eggplant and beef pashtida, or Kurdish meat with rice and beets, all found in King Solomon's Table. These are all casserole dishes, easily made for a crowd and easy to put on a table outside. 
Main image: Fennel Seed Challah with Matbucha