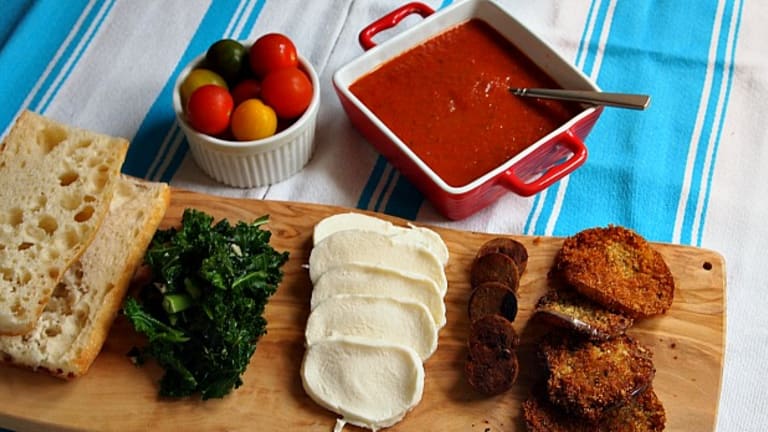 DIY Grilled Cheese Bar
Ahh grilled cheese. The perfect meal for Fall, that's easy and makes you feel like a kid again. I recently went back to work and unfortunately my classroom is "nut free". I usually am a PB & J kind of girl, so I needed a new work sandwich and I found that you can have so much fun with grilled cheese!
For a fun Yom Tov meal or any time lunch for kids or adults you can try a grilled cheese bar.  All you need is a griddle or large frying pan ready to go.  Set out plates filled with a selection of different breads, cheeses and other fillings.  Fillings can include anything from fried eggplant to grilled veggies to fake bacon.  You can also offer a variety of spreads, like sweet preserves, spicy mustard, pesto or tapenade.  Then let everyone create their own!!  Maybe serve a few salads and pickled veggies and your done.  Have fun and let your guests play chef.
Here are some of my favorite combos:
AVOCADO AND WHITE AMERICAN CHEESE MELT
This sandwich works best with over ripe avocados- which is how I created it! I was trying to think of something to make using my last, super ripe avocado and this was delicious!
VEGGIE BACON AND AMERICAN GRILLED CHEESE
I love Morning Star fake bacon!  Once upon a time when I was on weight watchers,I discovered that two strips was only 1 point! I felt that I had to incorporate these yummy strips into one of my grilled cheese creations.
All I can say is, yum! These bites were a happy accident.  I meant to experiment with cheese and pita bread, but I had given my son the last piece of pita. I DID have one small package of pizza dough, thawing in the oven and decided to have fun with it! These grilled cheese bites were so easy to make, and were gobbled up in under 5 minutes.
What is your favorite way to make a grilled cheese?