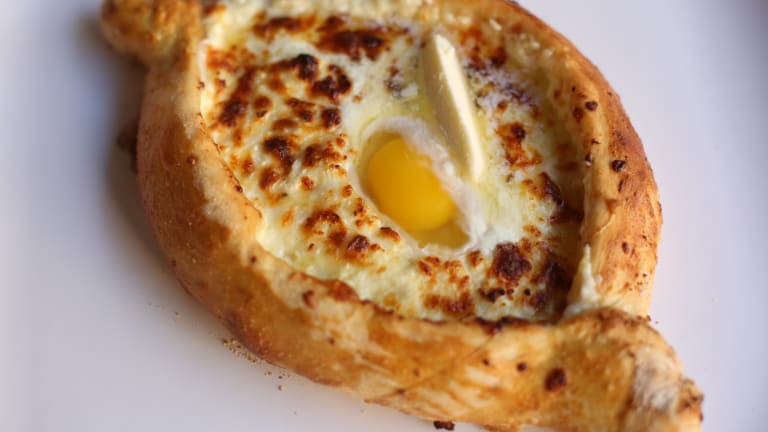 From Georgia, With Love: Our new love affair with Khachapuri
I was not familiar with Georgian food before I walked into Marani, a newer ethnic find in Rego Park, Queens. Rustic warmth greeted me as I entered the wood-lined restaurant, its red brick bar a welcoming hearth under the glow of soft, mellow lights. Earthen jugs, a pair of hung ram's horns, and stacked wine bottles transported me to a lesser known countryside.
Owner Ana Epremashvili left Georgia when she was a young child, but was determined to bring a taste of Tbilisi to New York. Georgia is a culinary crossroads of sorts. Northern influences from Russia, Turkish and Armenian tastes from the south, excellent growing conditions due to being situated near the Black Sea, and a stop on the Silk Road made the cuisine diverse and the ingredients plentiful. Rich meat stews and dumplings, lots of fresh herbs like tarragon and cilantro, salty cheeses, rustic breads, unusual spice blends (featuring blue fenugreek and marigold) and walnuts galore. Ana was committed to doing it kosher, the way she was raised – it's the only kosher Georgian restaurant in America. "I wanted to bring something different to the kosher community," she explained. A few blocks from her Georgian synagogue, Marani opened its doors nearly three years ago. Ana estimated about fifty percent of the clientele are kosher, looking for a new experience. "The other half have no idea it's kosher; they just come because they like the food."
Downstairs from the intimate meat restaurant, a casual dairy café -- really a "khachapuria" --features Khachapuri (ha-cha-pur-ee). Georgians don't eat pizza, they eat khachapuri – a national dish that is also the most decadent cheese-filled bread you'll ever meet ("khacha" means cheese, "puri" means bread). Traditionally served as a first hot appetizer at a large family-style Georgian meal, much intrigue has drawn attention to these breads. Each region of Georgia has its own tradition for khachapuri. The Imeruli (from Imereti) and the Megruli double-crusted, round, stuffed doughs are very common, each guest taking a slice like pizza; but it is the boat-shaped Adjaruli (from Adjara region), that has received the lion's share of the popularity. A whole egg cracked in the center and a generous helping of butter worth its weight in cholesterol finish the dish. These get mixed into the hot cheese filling, the center becoming an indulgently creamy dip in which to dunk torn off pieces of the bread. Khachapuri is not for the light-hearted, but should be shared with friends with each rich bite.
Making the khachapuri. A step-by-step gallery. Click HERE for the khachapuri recipe.
Khachapuri dough is similar to a pizza dough – the dough should be slightly crusty on the outside, but very soft and light on the inside. The cheese filling is a mixture of two to three cheeses that are bound to together with an egg. In Georgia, Sulguni cheese is primarily used – similar to a mozzarella cheese but saltier and brined. At Marani, they mix mozzarella, feta and cottage cheese to recreate that taste of home. To be able to offer diners a similar first course in their meat restaurant, Marani developed their own signature dish based on the Adjaruli (called just "Adjaruli"). Instead of cheese filling the boat-shaped dough, a spiced meat mixture topped with an aromatic fresh tarragon-mushroom sauce is baked in the dough; it is still finished with the distinctive egg for creaminess. Order this when you have time for a meat feast there.
Still downstairs, I was enamored with artisan handiwork, stuffing the cheese carefully under neatly formed crusts, twisting and sealing dough like ornately wrapped gifts. Maya, Marani's dairy khachapuri maker was finishing a few pies for to-go orders. As she lifted an Imeruli pie into the cardboard box, I noticed the culturally defining words on the custom box: "not pizza…Khachapuri".