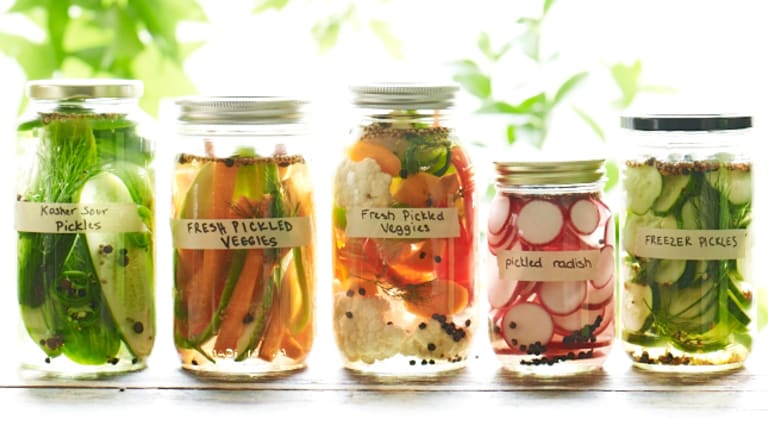 Do It Yourself Pickles and Pickled Veggies
While hamburgers and hot dogs are requisite barbeque fare, in my family, a summer gathering isn't complete without pickles.  After reading the labels on commercial varieties made with ingredients whose names I can't pronounce, I promised myself to never buy another jar of processed, neon green pickles again.  Whether utilizing produce from your garden or purchasing veggies from the store, making pickles is a relatively simple way to preserve summer's harvest. Get into do-it-yourself mode and think beyond cucumbers. Okra, tomatoes, peppers, snap peas, carrots, summer squash, radishes and cabbage, make wonderful pickled vegetables.
This is also a great Summer family activity.  Kids can help out throughout the whole pickling process.  Have them choose which vegetable they want to pickle.
Sweet Freezer Pickles with Dill
Freezing marinated crisp, firm veggies is a quick, tasty way to preserve veggies like cucumbers, peppers, carrots, and cabbage. Once thawed, they can be kept in the fridge for a few days.
Like the flavors of cilantro and mint?
They won't hold up in traditional canning methods but their delicate flavors are perfectly maintained in freezer pickles. These pickles were frozen with their brine in Ziploc bags before I defrosted to serve.
If you don't want to bother with canning, combine the veggies in brine, and store the pickles in the refrigerator, where they continue to develop in flavor over time. Adding a sliced beet to this basic recipe turns the mixed pickles a lovely shade of pink.
Olive-green and deliciously tangy, classic kosher sour pickles are made through a fermentation process. In order to get natural bacteria to form and effectively preserve cucumbers, begin by thoroughly cleaning your veggies.  The cucumbers will be ready in about a week or more depending on how much salt was added and how sour you like your pickles. The more salt, the longer the fermentation process will take. Half sour pickles, made with about 1/2 cup salt per gallon of water, are ready in about a week. Full sour pickles, made with about 3/4 cup of salt per gallon of water, are ready in about 10 days, or more.
What is your favorite veg to pickle? 
Pickling is fun all year round...