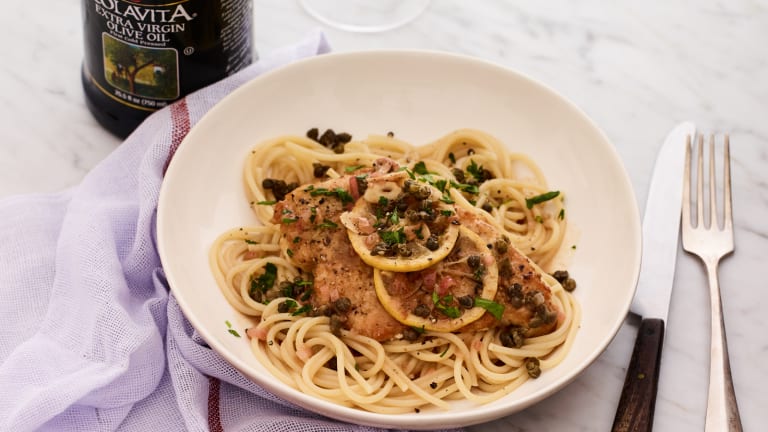 How To Make Food Garnishes Taste Even Better Than They Look

Garnishes are the final touch, the perfect detail of a great dish. A good garnish can transform an ordinary dish from so-so to stellar. Some garnishes are only there for color, but if chosen properly, garnishes can add texture and even a POP of flavor for the ultimate culinary experience.
Garnishes fall into two categories; additions and embellishments.  
ADDITIONS
Additions are garnishes that COLOR the flavors of a dish. These garnishes are not used in the recipe itself, but they should pair well with the flavors of the main ingredient.  
PAN FRIED SLIDERS WITH CRISPY SHALLOTS
Crispy shallots on pan fried sliders are a perfect example of a garnish addition.  The sliders are amazing unto themselves, but the addition of crispy shallots takes a simple bistro style burger to a new level. Crispy shallots are my favorite chef-level garnish any home cook can master.  Crispy shallots are versatile and bring every dish from veggies to steaks over the top.
CREAMY ROASTED LEEK AND POTATO SOUP WITH ONION HAYSTACK
We added style and a crunchy bite of flavor to this creamy soup with thinly sliced onions fried into golden, crispy slivers.  This is the perfect example of how to make it feel like you are eating in a gourmet restaurant without a ton of work. 
EMBELLISHMENTS
Embellishments are a type of garnish where you take an ingredient that is already in a recipe and use it again in a different form.  For example, if a recipe has roasted garlic as a main flavor profile then "punch" up the garlic flavor with a fried garlic chips garnish.
CHICKEN PICCATA WITH FRIED CAPERS
Crispy capers are the perfect example of a delicious embellishment garnish. Capers are the edible flower buds of a tree. They are typically pickled and added to salads, vinaigrettes, and sauces, often Italian and Mediterranean style dishes.  In this traditional recipe of chicken and capers, I added a PUNCH of flavor by rinsing and patting the capers dry. Then I fried them in delicious extra virgin olive oil and sprinkled them over the finished dish. The crispy buds add a textural, briny flavor and visual interest.
ITALIAN WHITE BEAN SOUP WITH FRIED SAGE
Fried sage is my favorite PREP LIKE A BOSS garnish. Keep them on hand for all your Fall cooking. This simple white bean soup gets topped with crispy sage leaves just before serving for pure heart-warming comfort.  
When preparing simple garnishes, be sure to use the best quality ingredients. We use high quality extra virgin olive oil (we love Colavita!), kosher or sea salt and fresh produce. Another important tip is to plan ahead. Most garnishes can be prepared several days ahead of time. Crispy shallots and onion haystacks can be prepared several days ahead of time and kept, tightly wrapped, at room temperature. If you live in a humid part of the country and your shallots become soft, you can crisp them back up in a low oven (250°F.) for a few minutes. The same re-crisp method works for onion haystacks as well.