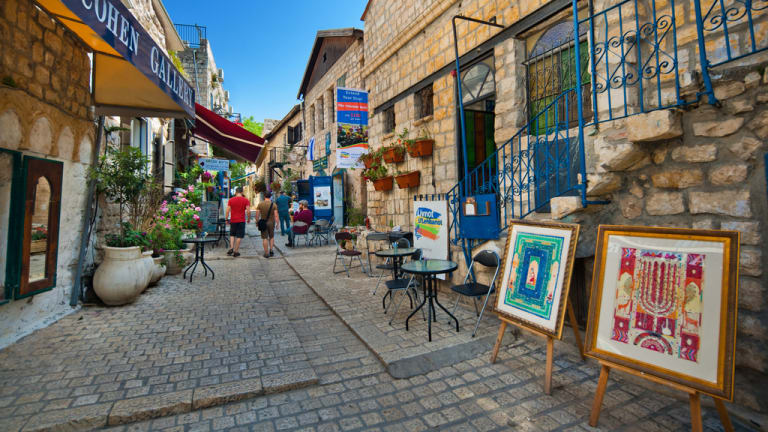 My Family Vacation in Tzfat
We fell in love.
Like the kind of deep, spiritual, unrequited love, great novelists write about…
… with Tzfat.
I had only been there once before. When I was 16, for a dark and rainy Shabbos when I attended Alexander Muss High School in Israel. We stayed at some entirely unmemorable youth hostel which was only memorable for how unmemorable it actually was. It was cold, really cold and the city was shrouded in a cloud, unassisted by the early winter sunset.
I have wanted to go back ever since.
20 years later (and more than 4 years since making aliyah) we took our family.
We were filled with the same kind of excitement and bursting JOY felt when planning a first-time Disney vacay. But this here itinerary was being conceived of way over on the other side of the world, in a city, and culture not showcased at Epcot.
We called our partners-in-crime, Greg and Chanie, because vacays are always best with loads of family. They were so, totally, in. We had them at hello.
My agenda began with finding us that super special place to stay. I really have a thing for luxury hotels. Like to an unhealthy extent. Unhealthy cause our bank account can't handle my yearnings and cause Hubby says "it's not normal to live like that." I disagree. I could so check-in to a 5-star resort and check-out at 120. But that's what dreams are for, I guess.
Short-term vacation rentals called tzimmers are big in Israel. The word tzimmer always sounded yiddish to me and entirely non-luxurious. But I have since, "Tanks Godt" as my grandmother a"h (she should rest in peace) would always say, been proven wrong.
When searching for tzimmers, even when searching for hotels I love to stay somewhere that feels like I am actually somewhere. Know what I mean by that? I want it to feel special and like its essence matches the place I am vacationing.
"Tanks Godt" I found our special somewhere home in Tzfat. So special that I asked Amir and Nicole Bem (the owners, nicest couple and our new friends) if it was for sale. Cause if I can't check into a hotel for the rest of my life I might as well have a 2nd home, right?
If you're traveling with family, this is one of the best places to stay in Tzfat.  And if you're the type that likes things to come to life right before your eyes and you're not already following me on Facebook (WHY NOT!?!?!?), you can see "my" spectacular, Tzfat, home-away-from-home here:
At nighttime.
And during the day. (For all the cool stuff you couldn't see in the dark).
We busied ourselves over our extended weekend walking the stone paved alleys of the old city and artist's quarter.
Visiting the landmark Ashkenazi Ari Shul.
The famed Tzfat Candle Factory. I bought boring scented candles in mason jars, even though this was for sale.
And this.
And gallery after gallery.
I wanted to purchase no less than 5 paintings. Hubby talked me off a ledge by promising we would one day return.
We concluded Friday loading up on delish Shabbos takeout from Ahrele, rated on Trip Advisor as one of the 10 best restaurants in Tzfat, and highly recommended by the Bems. We walked "home" saddled with bags full of challah, kugel, chicken, cholent and all manner of salads and dessert.
Shabbos was the most intensely beautiful event. You could walk nowhere without hearing and feeling the reverberations of what felt like the whole world davening. It wasn't only the sound of voices, the people themselves spilled out onto the paths, the alleyways, the streets of Tzfat.
I have actually never been anywhere for shabbos were I experienced the streets so full with people; women and strollers, children, seminary and yeshivah students, couples, entire families all out and about together. Everyone was out. I am sure of it. It's hard to imagine a single person not seduced by the shabbos streets.
We floated and flitted along on a chorus of song and prayer to meet the men and boys. I had to ask for directions a few times because I wasn't quite sure where I was going - having planned only to follow that trustee gut of mine. But not one person could help me since they all too were visiting for this very same experience. It was both comical and beautiful.
We found the men davening outside the shul, with hundreds of others, because the small shteibel was bursting at the seams. It's aged and sagging walls couldn't contain the overflow of people that showed up to daven that night. It seemed the 2 shuls across the street, the 3 down the block, the 5 around the corner and the 20 I passed along the way, all enJOYed the same "sold-out" standing-room (outside-on-the-street) only, attendance.
Shabbos was spent like any other, with more shul, eating, singing, games and walks but all set against the mesmerizing backdrop of Tzfat, conjuring images of another place and time.
We ended our stay on a high note with my friend Tali from Israel Sca Ventures leading us on a fun family Tzfat scavenger hunt.
Since this post is longer than most I will just show you rather tell you what a party it was.
"WE LOVE TZFAT, SEE YOU NEXT TIME!!!!"
The owners of Villa Tiferet also have a holiday apartment in Herzliya. It's called Tiferet By The Sea and it has stunning beach views. Just like this villa in Tzfat, their beach holiday rental caters to families and has a kosher option. We can't wait to go!