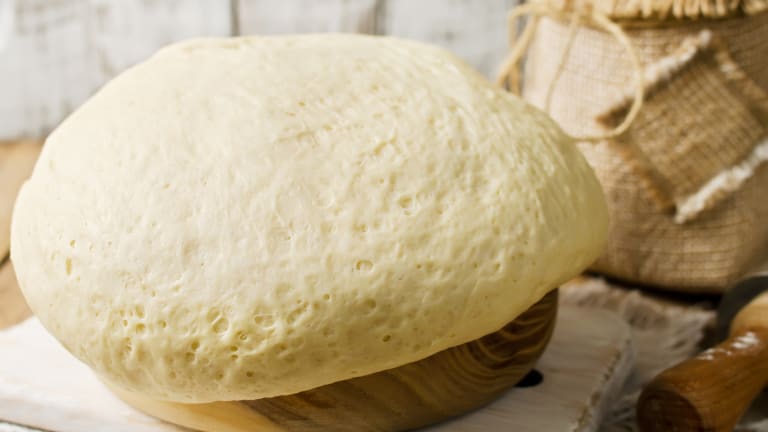 How To Get Yeast Bread Rolls To Bake Up Perfect
MMM....Hot airy buns from the oven
You'd be hard pressed to find a feeling more satisfying in this world than pulling a tray of hot homemade buns out of the oven. You may think that summertime is not the time to heat up the oven and get to baking, but a little known secret is that yeast doughs actually love warm weather. In the summer heat, enriched doughs take a fraction of the time they take to rise then they do in the winter, making it easier to get a lighter fluffier bun.
Let this dough rise all the way to the top of your largest bowl, and the end result may surprise you- a moist yet airy bun that resembles challah, but is packed with protein from the cottage cheese. Eat them slightly warm, smeared with a healthy helping of butter and jam, or freeze and heat as needed for a quick snack or sandwich bun.
Tips and tricks for getting the most out of your yeast doughs that will change the way you bake:
· Go ahead and mix all of your dry ingredients together before adding your wet ingredients-That's right, no more letting yeast bloom separately in water! This method works just as well (so long as your yeast is alive and active), and allows you to control the water content in your recipes. This method works with dried yeast, not the fresh variety. Store dried yeast in an air-tight container in the fridge to get the longest shelf-life possible from the product.  
· Doughs react differently according to the seasons and the weather. To get the best results from your bread doughs, and to avoid a sticky mess, add water slowly, and as needed, until the dough comes together. Helpful hint: For this recipe the eggs and cottage cheese do most of the job on their own, so be cautious about how much liquid you add!
· Let yeast dough work with your schedule. Yeast doughs can be kept in a plastic bag that has any excess air pressed out, for 3 full days before the dough is compromised. Not only does this allow you to make your bread fresh for your occasion and in your own time, but it is actually a preferred method of bread baking by many professional bakers, as this resting process allows for the dough to develop deeper flavors. Doughs can also be frozen in the same manner for up to 1 month. Just bring up to room temperature before using, and you should be good to go!
MORE: 10 Challah Dough Hacks
Nothing is as quintessentially Israeli as cottage cheese. It is the stuff that Israeli children are raised on, a nod to the days where children grew up on socialist kibbutzim, and ate from the land and the farm. It serves a perfect purpose in these hearty rolls. It enriches them, and adds protein, and just generally makes them better than any other roll you have ever eaten.   
MORE: Delight in Delicious Dairy Challah
If you are in Israel and would like to learn how to make bread and jam from the "The Jamstress," herself, check out Baking Workshops and more offered by Jessica Halfin.
The author also offers "Haifa Street Food Tours"- Culinary walking tours for tourists who are looking to experience the best that Israeli cuisine has to offer in the beautiful Mediterranean city of Haifa.
Want stories like this delivered right to your inbox? Sign up now for our *free* JOY of KOSHER Newsletter.