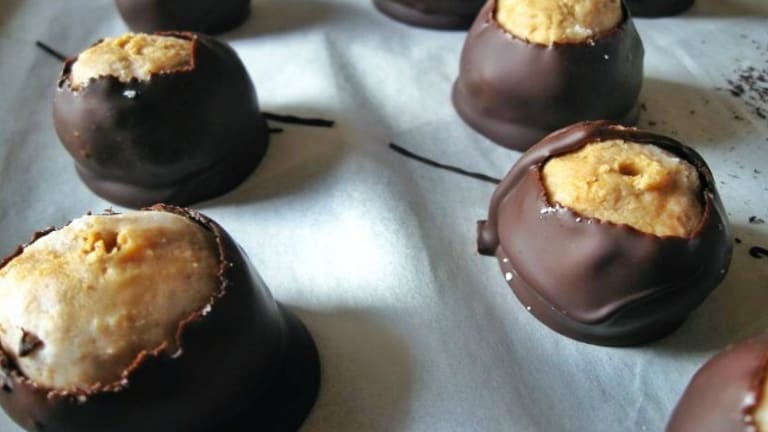 Peanut Butter Chocolate Balls: Review
Whoever originally brought together peanut butter and chocolate and thought it would be a good (GREAT) idea should probably be awarded a gold medal or something. Because who doesn't like a good peanut butter and chocolate bite? (unless you really, really don't like peanut butter and have an extreme aversion to it or your allergic to it.) But truly, on the whole most people love the flavor! We buy special candy, cereal, even peanut butter jars can come pre mixed!?!?!?! So yes, this magical mixture of chocolate and peanut butter is part of our lives, and recipes, and pantries, and menu plans ... you get the point.
This recipe right over here is pretty good, who can really beat Peanut Butter Chocolate Balls? I know right?!?! It's got creamy, it's got smooth, it's got peanut butter, and it is covered with chocolate. Amazing!
FYI: this recipe isn't super duper easy to make, just a little warning. You really do have to watch your times on the chilling and you really need to dust with powdered sugar before rolling them.
I felt that the finished product could have been a bit stiffer. A little more confectioner's sugar would help remedy that problem, I'd try adding 3/4 -1 C. of confectioner's sugar next time.
I can see this being a really nice recipe to make for misholach manot ... it would be very easy to make them look simply gourmet! Add a little drizzle of some white chocolate ... Oh yes, I can see them looking divine!!!!!! You might want to go ahead and add this recipe to your calendar right now, go ahead, add a little reminder. :D
I wanted to extend my thanks and heartfelt gratitude to this wonderful foodie community that I've become a part of. Thank you for respecting the space that I needed during the Shiva for my grandmother. You guys are great. Thank you for your words of kindness during this difficult time.
All the best!