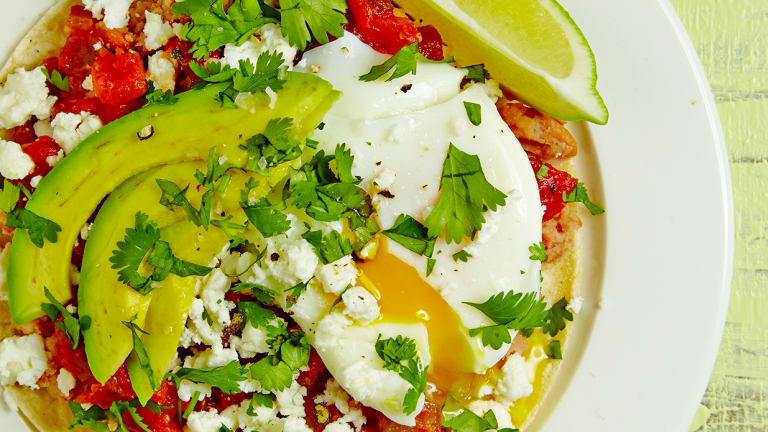 Put This On Your Breakfast Menu In September
Some go for pancakes, others like their eggs and hash browns, and breakfast open-faced sandwiches are all the rage. But sit me down any time with huevos rancheros and everything else disappears. 
There's nothing like cutting into a runny fried egg, a kicking salsa, and some fresh corn tortillas to start my morning. Add some refried beans with avocado and sour cream on the side and I'm likely to hit my daily happiness goals before lunch. 
Try it now, thank me later. 
Huevos rancheros is a classic Mexican breakfast, with fried eggs served on hot corn tortillas and smothered in salsa. (I made them for breakfast today and I'm getting hungry all over again just thinking about them.) 
Huevos means eggs in Spanish. But since that isn't all too specific, those eggs can be scrambled, fried, or poached. I don't know about you, but for me, scrambled eggs are so 2010. I've been eating huevos rancheros with scrambled eggs for years now, but I've since moved on to eating them with crispy fried eggs, or sometimes, when I'm feeling daring, I try it with a poached egg (my absolute favorite). 
I now appreciate how a fried or poached egg lends the added benefit of having the runny yolk mix in with everything – the salsa, the tortillas, and the beans. It's nothing but sheer perfection, and it looks absolutely photo-worthy with the gorgeous and vibrant colors.
The thick, rich yolk pours over the salsa and tortilla, coating it with its velvety texture and gives a full-bodied, almost dressing-like feel to the whole dish, tying it all together. A plate of saucy huevos rancheros is my go-to meal when I want a substantial, savory meal. 
The greatest part about huevos rancheros is that anything you have in the fridge or pantry can make this dish work. A can of corn, beans, sautéed vegetable, fresh vegetables, canned salsa, guacamole, or even kimchi can make this dish an absolute winner. Not only does this dish taste good but it also makes you look good! 
Huevos rancheros is inherently impromptu and looks like you put way more effort into it than you really did. It takes breakfast/dinner to a whole new level and makes you look like a star. You're basically just frying or baking some corn tortillas to soften them, adding crispy, fried sunny-side ups, or runny-yolk, or poached eggs and dishing on plenty of salsa. Everything else is just accessorizing. 
It's easy for me to think of huevos rancheros as such a winner, easy, casual dish that it doesn't even need a recipe. But then I wouldn't be doing my job, now, would I? My goal was to come up with a recipe for huevos rancheros that requires nothing more than basic supermarket pantry staples. And I wanted it all in less than half an hour, because who has time to wait for breakfast, lunch or dinner?
Get my full recipe for HUEVOS RANCHEROS.