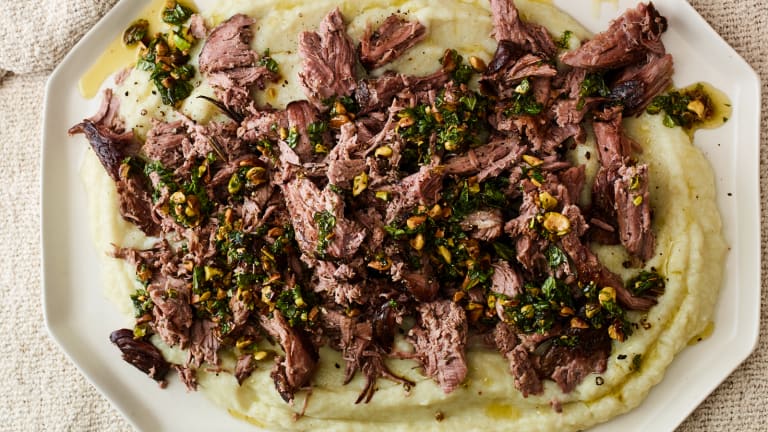 Sous Vide: A Guide
Your how to guide to kosher sous vide with downloadable chart.
What is sous vide?
Sous Vide is a French term defined as 'cooking in vacuum'. Sous Vide cooking has gained much popularity in the past few years as affordable sous vide machines (a.k.a. immersion circulators) have entered the marketplace and  enabled home cook to access technology once reserved for top restaurant kitchens. 
The name, terms and instructions surrounding sous vide cooking can seem somewhat intimidating. However, when you boil it down, sous vide cooking is simple, efficient and approachable for the home cook.
Sous vide machines are available at large housewares stores and amazon. They average price for a reliable sous vide machine is $100. 
What does it mean to cook Sous Vide?
Cooking sous vide is cooking under precise, even temperatures. Also referred to as an immersion circulator, the sous vide machine is attached to a large pot of water which is brought up to an exact temperature by the hot air the sous vide machine releases into the pot of water. The sous vide machine maintains that temperature for the entire time your choice of ingredient cooks. It is one of the simplest and most concise ways to cook meat, chicken and fish. 
Set it & forget it is how we like to think of sous vide cooking in the Jamie Geller Test Kitchens. 
What do you need to Sous Vide?
2. Zip Lock Freezer Bags
3. A large pot of water
How do you Sous Vide?
1. Place your ingredient of choice into a ziplock freezer bag. 
2. Add a drizzle of extra virgin olive oil, salt and/or pepper to taste and seal bag airtight.
Tip: Place half sealed ziplock halfway into pot of water that has been brought up to temperature. The water circulating around the bag forces the air out  and allows you to effectively achieve an airtight seal. 
3. Set the sous vide temperature and time based upon what you are cooking. See our meat & poultry guide below. (Or click HERE to download).
4. Once your protein is cooked, sear in a hot pan to achieve color and texture.
Why Sous Vide?
Cooking an inexpensive chuck roast and having it taste like a rib roast is a magical and worthwhile experience. Cooking duck breast to perfect juiciness, soft-as-butter salmon and perfectly medium steaks is made possible by the precise technology sous vide machines bring to the home cooks kitchen. 
Sous vide cooking also maintains nutritional value of vegetables that sometimes gets diminished with other cooking techniques. 
What can you sous vide? 
You can sous vide almost anything. Eggs, salmon, meat, fish, poultry and even vegetables like mushrooms and eggplant. 
Recipes to Get Started:
1. BASIC HOW TO SOUS VIDE CHART.  
We collaborated with Naftali Hanau of Grow & Behold to put together this beginners chart to cooking sous vide. Once you begin the sous vide process, you will gain expertise in times and temperatures that suit your tastes and personal preferences. The following chart is a baseline that can be used to gain confidence in sous vide cooking. 
WATCH JAMIE SOUS VIDE WITH KOSHER MASTER CHEF AVI KATZ