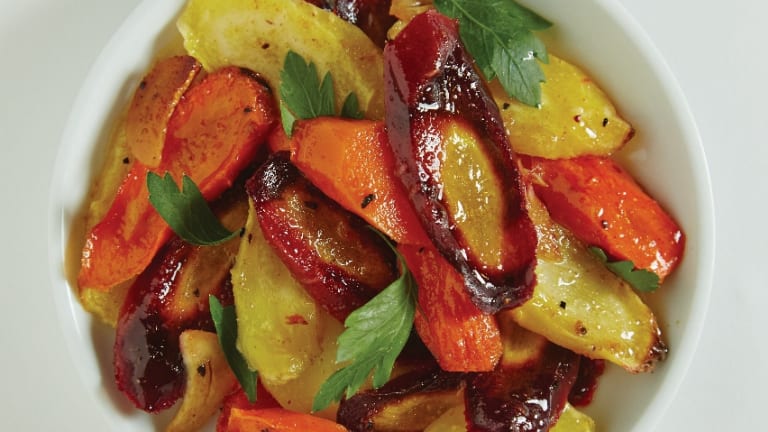 Sweet and Spicy Moroccan Carrots: Recipe Review
When you need a dish that you want to pull from the ordinary to the exotic one place to look is into some Moroccan cooking. I've never had better soups than those made by an extraordinary person of Jewish Moroccan descent. I really don't know how that much flavor can get packed into a seemingly simple soup. Let me tell you, Shabbat meals can be transformed with just one dish.
When I saw that Sweet and Spicy Moroccan Carrots were one of the recipes I could test I ran after it! Knowing that something good would be awaiting me in the final product. I needed a side dish to go with a Shabbat meal, and I really wanted to make something different or make something similar different. These carrots were the ticket.
This is such a zippy recipe, both in time and flavor. It could be described in may ways - bright, happy, warm, comforting, spicy, a touch of sweet. It's so many things! One of the highlights for me is the cumin. I've come to appreciate the warmth that cumin brings to whatever dish it's in. Cumin, to me, seems like the quintessential fall spice, and this recipe brings out it's golden tones well.
For this recipe it's really a chop, mix, toss and bake. Super easy but with incredible results. When it comes to spicy spices (such as the red pepper flakes) I feel you need to make it fit your family. Does the majority enjoy the hot and spicy life or a bit toned down? Make the recipe something that you are going to actually enjoy i.e. in this recipe I knew that the teaspoon of crushed red pepper flakes would be way too hot for us. So, I simply backed it off a bit. Make cooking a freeing experience! Make it by you and for you!!! EnJOY it as Jamie likes to say.
With this recipe I found that there was a bit too much dressing for the amount of carrots - but I might just double the amount of carrots next time (and there will be a next time!!!) and it should be just to my liking. This is such a delightful recipe, you should try it out! And it really is just as good warm or at room temperature, just like the recipe says.
All the best!!