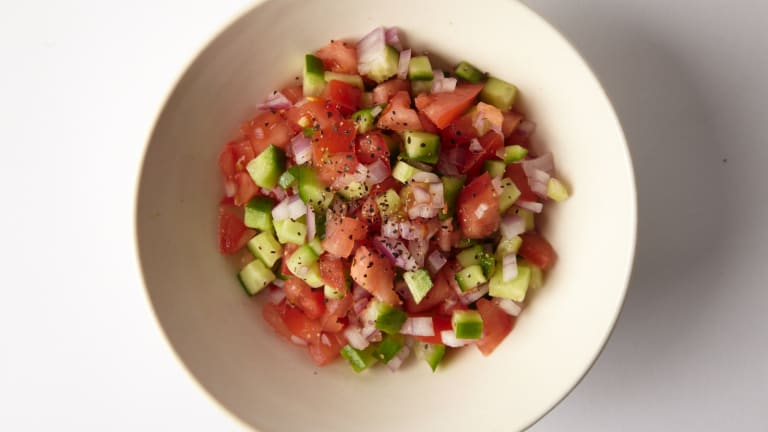 Joy of Israel: The Best Salad in Jerusalem
WHERE CAN YOU GET THE BEST SALAD IN JERUSALEM?
We asked our loyal readers to help us find the best versions of everything Israel has to offer. We asked the people of Israel. We asked our friends. We asked tour guides. We asked foodies... And now the results are in!
Be the first to know! Follow our weekly #JOYofISRAEL updates on Facebook and Instagram.  
Scroll down for recipes you can try at home...
MORE: The Best Borekas in Jerusalem
THE BEST SALAD IN JERUSALEM
READER'S CHOICE WINNER:
Café Kadosh (6 Shlomzion Hamalka St, Jerusalem)
"The freshness, mixture of flavors and the unique presentation make any of Kadosh's salads , the most colorful and unique salad opportunities in Jerusalem." -Mordecai Holtz, New Media Director for ITravelJerusalem (follow them on Twitter@ilovejerusalem,Facebook, and Instagram @itraveljerusalem)  
"The best salad is at Café Kadosh. They are consistent, delicious and you can count on them being seasonal. -Yehuda Jacobs, TheIsraeliFoodie
"The Shira Salad [at Kadosh]: Warm goat cheese, mixed greens and wine drenched figs. Delish." - Shira Fine Buzelan
"I agree that Kadosh has wonderful salads." - Judy Naamat
MORE: 3 Delicious Meal-In-One Salads
TIE FOR SECOND PLACE:
Cafit (Various Branches)
"Cafit's Oreganata Salad." - Dominique Sulzbacher
"Oregenata at Cafit. They are famous for it!" -Micol Rubin Bayer
"The salad with sweet potato chips at Cafit." - Miri Furst Homa
Al Dente (50 Menahem Ussishkin St., Nachlaot, Jerusalem)
"I think the best green salad I had was the Romaine salad at Al Dente in Nachlaot. Freshly grated cheese and a delicious lemony, garlicky dressing and crispy homemade croutons." - Rita Ackert
"I agree that Al Dente has great fresh salads." - Lori Pulver
MORE: The Ultimate Guide to Israeli Salads
RUNNERS UP:
Piccolino (12 Yo'el Moshe Salomon St., Jerusalem)
"Tuna Niçoise at Piccolino." - Chaya Witkes
"Tuna Steak Salad at Piccolino! Unbelievable!" - Gitty Shmuel Roth
Kalo Café (31 Beit Lechem Way, Baka, Jerusalem)
"The Niçoise Salad at Kalo is amazing." - Shira Fine Buzelan
"Yonatan Salad, or any other, at Kalo in Baka." - Elisheva Kupferman
Mamilla Café and Brasserie (11 Shlomo Hamelech, Mamilla Mall, Jerusalem)
"…For a special occasion salad the Mamilla Café and Brasserie has a Niçoise salad that is over the top delicious." - Lori Pulver
MORE: The Best Hummus in Jerusalem
If you can't come to Jerusalem, don't worry, we've got you covered! Here are our best salad recipes....Enjoy! 
MORE: 3 Warm Salads, Healthy Comfort Food
Don't miss out on the best, JOYofISRAEL.  
Want to know more about Israeli food? Check out the JOY of KOSHER Magazine, Israel Issue! Subscribe Now.
Want stories like this delivered right to your inbox? Sign up now for our *free* JOY of KOSHER Newsletter.