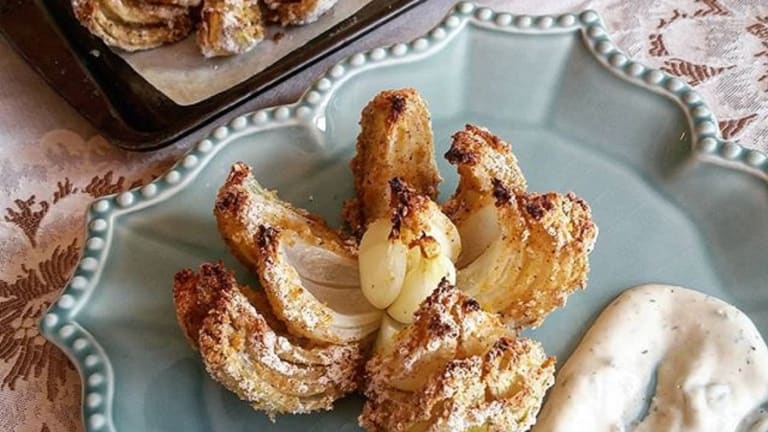 Vegging Out With Baked Veggie Snacks
Every month JOY of KOSHER brings you the latest in cooking trends and delicious foods, straight from Naomi's kitchen in NY. A personal chef and caterer, Naomi loves bringing people together with good food!
What's Cooking in Naomi's Kitchen?
Being part of a semi-vegan family always keeps me on the lookout for a new veggie recipe to bring to the table. You know you've succeeded when you cook a veggie dish and your family doesn't even miss the meat. These homemade recipes will keep your tastebuds satisfied and will definitely help you feel good, compared to some storebought snacks. Here are some unique ways to incorporate new and familiar vegetables into your dishes.  
This gluten free Blooming Onion is baked, not fried. It's a perfect healthy appetizer for a meal or party, and a great anytime snack.  
MORE: The Best Crowd-Pleasing Vegan Appetizers
Parmesan cheese hides inside these otherwise simple Baked Zucchini Fritters, for a fun appetizer or healthy treat.   
MORE: You Gotta Serve These At Your Next Party
These Baked Yucca Fries are a healtheir alternative to french fries, and are easy to make. Spiced with a chipotle rub, they pack a bold taste.  
MORE: Kid-Approved Gluten Free Recipes For Picky Eaters
BARBECUE FLAVORED ZUCCHINI CHIPS
Pass the chips! These Barbecue Flavored Zucchini Chips are a guilt free snack, spiced with yummy flavors, then baked to a crisp.  
Stay tuned for more recipes from Naomi's Kitchen...
Want stories like this delivered right to your inbox? Sign up now for our *free* JOY of KOSHER Newsletter.