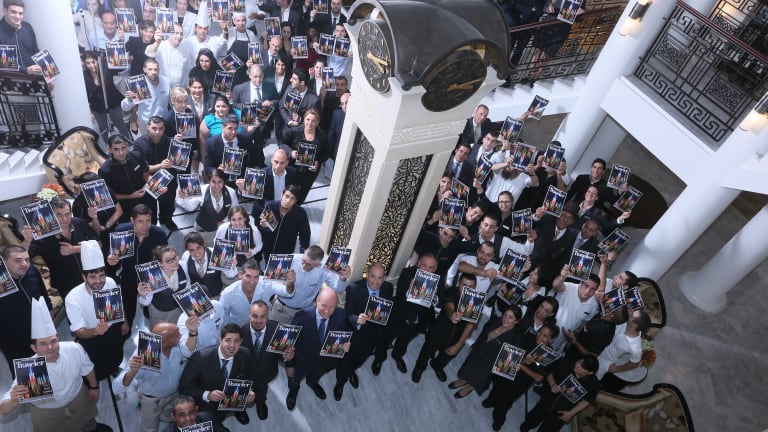 Waldorf Astoria Jerusalem Ranked Best Middl East Hotel
For the second consecutive year –Waldorf Astoria Jerusalem ranked Best Middle East Hotel by Condé Nast Traveller.
Waldorf Astoria Jerusalem has been recently ranked among top of the world's great hotels and best hotel in the Middle East for 2016, according to Conde Nast Travelers 29 annual Readers' Choice Awards.
Each year, Condé Nast Traveler recognizes the best hotels from around the world, as a result of consumer votes. This year, 300,000 travelers, who voted for 7,394 hotels around the globe, gave the Waldorf Astoria Jerusalem a score of 97.05 - an almost perfect 100 - which placed the hotel best in the Middle East. In the category of Middle East and Africa, Waldorf Astoria Jerusalem received the 3rd highest score, after two top African hotels.
"It is a great honor for the Waldorf Astoria Jerusalem and its Team Members to win again this recognition," said Guy Klaiman, general manager, Waldorf Astoria Jerusalem. "This is the second time that our hotel has not only been recognized with best Middle East hotel title.  Waldorf Astoria Jerusalem is making considerable efforts to prove that you can have excellent tourism and provide the highest quality of service worldwide."
Waldorf Astoria Jerusalem is located on the site of former Palace Hotel, previously one of Jerusalem's most renowned properties, which last checked-in guests in 1935. Ideally located within walking distance of the walls of the Old City and the famous Jaffa Gate, Waldorf Astoria Jerusalem is the only internationally-branded luxury hotel in the city.
Waldorf Astoria Jerusalem participates in Hilton HHonors®, the only guest loyalty program where guests who book directly through www.waldorfastoria.com have access to benefits including digital check-in, choose your room, and complimentary Wi-Fi at 25 Waldorf Astoria hotels worldwide.
Follow all of Waldorf Astoria's experiences at www.facebook.com/waldorfastoria, http://twitter.com/waldorfastoria, and www.instagram.com/waldorfastoria, and browse the hashtags #WaldorfMoment, #TasteofWaldorf, and #WaldorfDrive.