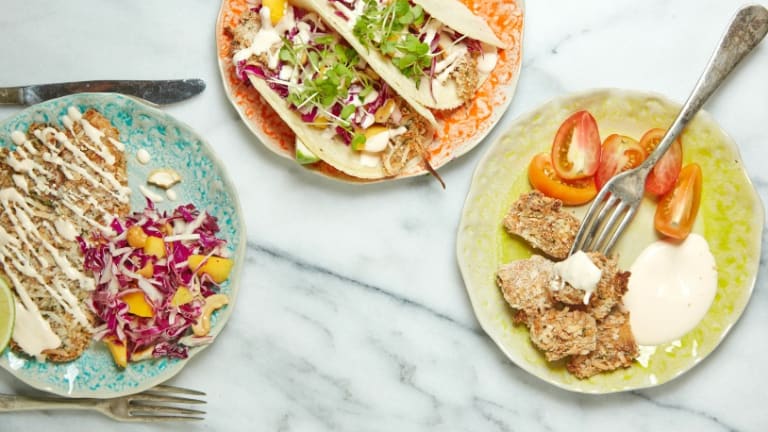 1 Oven Fried Fish Recipe 3 Ways
I recently read a survey which stated that one in three moms complain about having to make multiple dinners to please all the members of her family nightly. This struck a chord with me because admittedly, I was one of those moms, as are many of my friends. A while back I presented myself with a challenge, a game of sorts, to please all my diners using the same dinner components for all. I coined it "triple play."
Triple, because I see the various palates I need to please divided into three groups. First, the young eaters who require simple-to-eat, easy food. Next, the teens who want healthy, good, and sometimes fun food. Lastly, the adults who crave something satisfying and sophisticated after a long day. We know that cooking the meal is often only half the battle. Getting through dinner with everyone happy and satiated is a herculean task.
I'm proud to say the concept really works! Everyone is happy at dinner and I am spending way less time preparing it! During these hot summer days, I thought I'd share my ideas for a light, fresh, and healthy fish dinner designed to garner rave reviews by all and have you in and out of the kitchen in no time. Enjoy!
For The Little Ones:
Serve Fish Nuggets and use creamy sauce as a dipping sauce. Kids love to dip! To balance out this meal serve with some of the prepared diced tomatoes and diced mangos.
Teens:
Fish Tacos
1) Remove heated tortillas from foil. 
2) Place 2-3 fish nuggets in centre of each one.
3) Let each person top their own taco with toppings from the "have on hand" ingredients above.
4) Drizzle creamy sauce down the center.
Adults:
Drizzled with a Side of Slaw
Place fillet on plate and drizzle sweet chili lime sauce over top. Serve slaw on the side.
Get the full recipe for Oven Fried Fish 3 Ways with Creamy Sweet Chili Lime Sauce and Cabbage Slaw With Cashews and Mangos.  
As seen in Joy of Kosher with Jamie Geller Magazine Summer 2014, Subscribe Now.