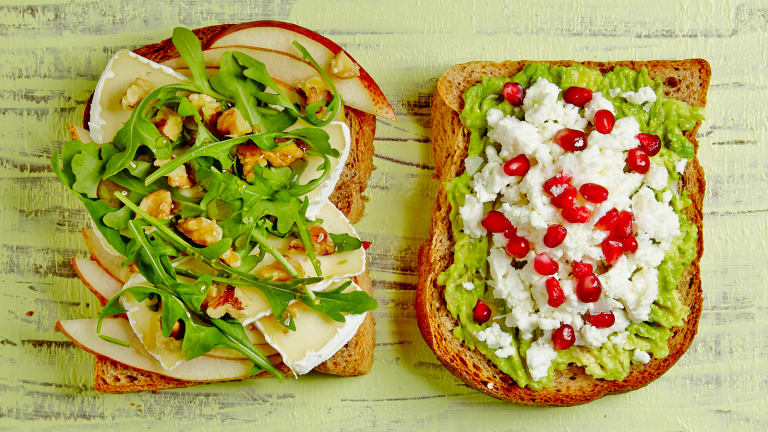 13 Open Faced Sandwiches You Can Pick and Choose
These sandwiches can be assembled in less than 10 minutes and they are perfect for breakfast, brunch, lunch, or dinner. Oh, and if you're a late-night snacker, which I may or may not be, you should definitely keep these in mind. I'm sharing two of my favorite toppings but you can make these sandwiches with nearly anything you dream up.
The open-faced sandwich is a simple concept. It's really just a normal sandwich that omits the top slice of bread. Sounds pretty boring, right? When I first heard about a sandwich with a missing slice of bread, I was like, "No. I don't like it. Nobody gets between me and my bread." It's like when my mother tells me, "Chai, maybe you can use half the sugar the recipe calls for?'' Also no. And I'm not sorry.
MORE: 25 Best Non Hummus Spreads For Your Bread
What changed my very stubborn, carb-loving mind was a trip to Zak The Baker in Miami. The stunning display of thick, crusty bread slices with beautiful, colorful ingredients piled on the bread's soft chewy centers convinced me it was time for a change. One bite was all it took to throw my lunchbox staple out the window to make room for its more mature and attractive older sister.
So let's get real. An open-faced sandwich must be on a great slice of bread, but we all know deep in our hearts that the best part of the sandwich is always the filling. It's where creative minds come to play.
I've tried open-faced sandwiches with every single different kind of bread and 100s of different toppings. The beauty about open- faced sandwiches is that you can accessorize them and dress them up, because these babies are all about the show. Use gorgeous garnishes like Watermelon radishes, dill, pea shoots, sprouts, nuts, mint leaves, and magnificent spices. This sandwich design is genius in its simplest form. While the creativity with these beauties are endless, try to aim for a variety in color to make the sandwich more eye-appealing. Don't be afraid to go big or small. Tiny open-faced sandwiches (or crostini) are all the rage!
MORE: 7 Incredible Crostini Ideas
Some variations I love:
Goat cheese + beets + pine nuts + fresh thyme leaves
Ricotta + figs + honey + freshly ground black pepper
Herbed cream cheese + thinly sliced Watermelon radishes + thinly sliced cucumber
Nutella + strawberry jalapeño jam + fresh strawberries 
Warm blue cheese + thinly sliced apple + maple syrup + crushed pecans
Dates + feta + almonds
Pear + ricotta + honey
Mango + lime + mozzarella
Kale + egg omelet + cheddar cheese
Pineapple + cottage cheese + cashews
Berries + basil + cream cheese
Here I include full recipes of the images at the top, I chose one sweet and one savory. Trust me, I had a really hard time choosing my top two.
AVOCADO SMASH WITH POMEGRANTE SEEDS AND CHEESE
CHEESE TOAST WITH PEAR, ARUGULA AND PISTACHIOS
TIPS                 
When slicing the bread, it should be twice the width of how a bakery would slice it. It should look impressive and have a solid bite to it. I prefer to use breads that are more substantial, like sourdough or whole grains with nuts, and seeds inside. It just gives the sandwich more depth and looks more impressive.