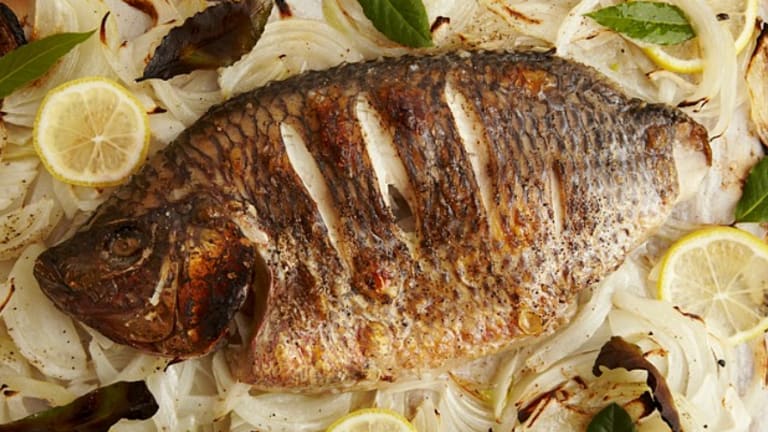 4 Fish Recipes And How To Pick Fresh Fish
It suddenly became clear to me after a year of living in new york city. I was distractedly looking at the menu proposal for yet another fundraising dinner at the non-profit where I worked, and all of a sudden realized that all the fish options were salmon, salmon, and salmon. Baked salmon, poached salmon, smoked salmon, in a hodgepodge of flavors and textures. Had all the hype about its health benefits made us forget about all other types of fish? Or was it fear of the unknown?
Growing up in Venice, my experience had been different: my mom and her friends always cooked many types of seasonal fish — very simply, with just a handful of fresh ingredients and no sauces that would hide its flavor. This minimalistic sophistication was meant at highlighting ingredients of the highest quality, and finding a good fish was considered at least as important as knowing how to cook it.
In fact, one of the hearts of Venice is still the Pescaria, the fish market in Rialto: dozens of stands sprawl under two massive Gothic loggias from the beginning of the 20th century (but the market itself dates back to about 600 years earlier), displaying a dizzying variety of fish and seafood from the lagoon and the nearby sea, and constantly crowded with hundreds of shoppers and a few tourists.
This should be a foodie's first stop in Venice; the fishmongers at the Pescaria, and not any famous chefs, are the true depositories of authentic Venetian cuisine, proving that fish is only as good as it is fresh. The Venetian standards have always been very high, including sustainability — as shown in a centuries-old carved marble plaque that displays strict regulations for minimum allowable sizes to be fished, so as to preserve the local habitat.
It's in this incredible place that I received some of my first informal lessons in cooking — starting from the fact that if the ingredients are local, fresh and seasonal, the food will taste good!
As to learning how to pick the right fish, here are a few tips:
1: Find a clean fish market and make friends with the fishmonger, who will help you find the freshest fish available and will clean it and scale it for you if you can't stomach doing it yourself.
2: LOOK HIM IN THE EYE! (The fish, not necessarily the fishmonger.) A fresh fish should look alive! Its eyes should look clear, its gills should be quite wet and bright red (if they are brown or grayish, your friend was frozen); the skin, flesh and fins should be firm and bouncy, and the scales shiny. It should smell like the ocean, but not too fishy.
3: If you are buying fillets, be aware that brown edges or red streaks show age and should be avoided.  A smaller fish will often have more delicate flesh than a larger one.
4: Try to avoid fish that is sold already wrapped in plastic as it will be difficult to determine how fresh it is. If you have to buy it, at least rinse it very well and pat it dry with paper towels before cooking. However, it's best to buy fresh fish, or even flash frozen fish* (allow it to thaw slowly in your fridge, rinse and dry it, and then cook it immediately).
5: Avoid at all costs fish that was frozen but is being sold as fresh.
*Flash Frozen Fish: Many fish are frozen on the boat, minutes after they were caught making them fresher than fish at your local market.
Recipes published in JOY of KOSHER with Jamie Geller Magazine Spring 2013 SUBSCRIBE NOW