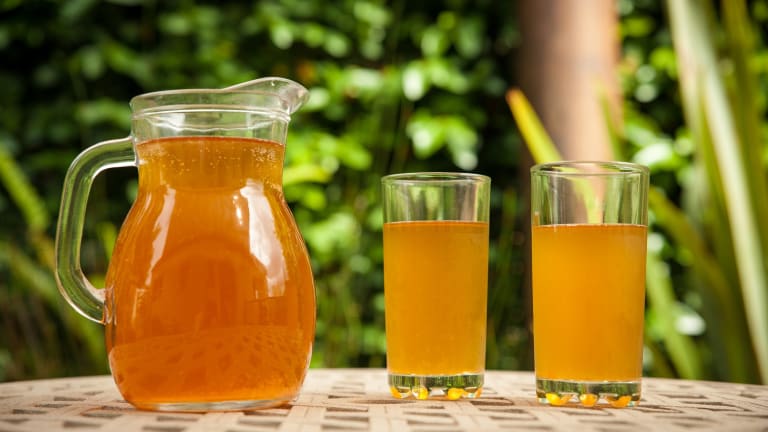 4 Rejuvenating Iced Teas To Keep You Cool in the Heat
There is hardly anything more refreshing on a hot summer day than a cold iced tea. I have a collection of glass pitchers just for this very purpose.
I typically drink 3-4 cups of green tea per day, straight. But when it comes to summer entertaining, be it a bbq or picnic, I like to mix it up, literally, with ginger, hot pepper and/or a little somethin' sweet.
MORE: New Ways to Go Green with Tea
Ginger has been used in cooking for almost 3,000 years by Babylonians, Egyptians, Persians, Chinese, and Japanese. Crystalized ginger is a fresh ginger that has been cooked in a sugar syrup. It is available in the dried fruit section of the supermarket, in Asian markets, and in health food stores. Ginger is a great remedy for upset stomachs!  
MORE: Refreshing Iced Tea Coolers, Smoothies, and Popsicles
We like it hot, hot, hot. As my 6 year old says "my mouth is BURNING and I LOVE it!" We add heat to everything! And our iced tea is no exception. The fact that hot "stuff" increases your metabolism is one of the fringe benefits of our taste buds. We need something to counteract our sweet tooth!
MORE: 4 Slushy Cocktails
Simple syrup is the base for this refreshing drink. Green tea is loaded with antioxidants.
MORE: 9 Easy Detox Tips
My inspiration for this drink came from bubble tea which has been all the rage. So here is bubble tea without the bubbles. If you can't find jasmine tea, use Ceylon or Darjeeling.  
Keep Cool!
Recipes Courtesy of Quick & Kosher: Meals in Minutes by Jamie Geller (Feldheim 2010)  
Want stories like this delivered right to your inbox? Sign up now for our *free* JOY of KOSHER Newsletter.