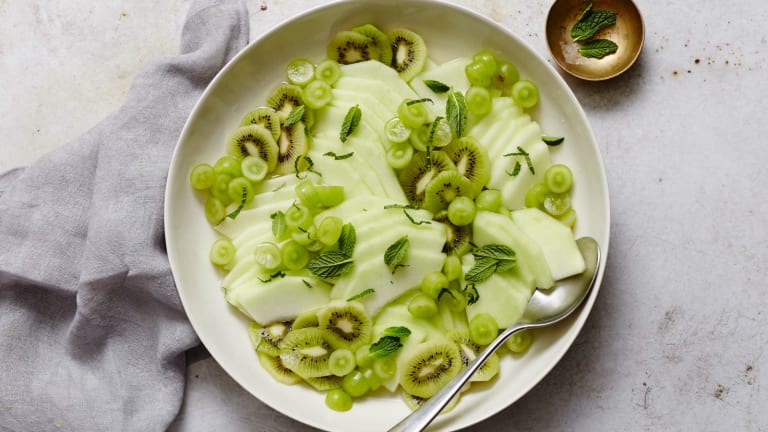 4 (+1 Fruit) Spring Salads That Wow
Why I Believe in Seasonal Eating
There's a real beauty to eating seasonally. Imagine the feeling of having waited almost a year to finally eat a peach, or even a gorgeous, red, vine-ripened tomato. Throughout the winter, tomatoes are terrible and anemic-looking, yet people keep buying them and eating them like there's no other produce to eat in the country. You can go ahead and eat tomatoes if they mean that much to you, but realize that they've probably traveled a long distance, which means they were picked while still green.
When fruits and vegetables are picked too early, they don't get a chance to reach their potential — whether in nutrients or in taste. Compared to out-of-season imported fruit, local summer tomatoes are not only a flavor explosion, they're also better for you. The recipes I've shared below use only seasonal spring produce. If you try to shop locally as much as possible, you're also avoiding the extra costs of importing, you're supporting your own country's economy, you're supporting local farmers (and, yes, you're helping lessen pollution and reliance on Middle Eastern oil).
Use this opportunity to bring vegetables back into your diet in a wholesome and simple way. Instead of pumpkin pie made from canned pumpkin, baked in store-bought crusts, try basic pumpkin slices drizzled with a little olive oil and tamari, and roasted with sesame seeds. And when it comes to creating new dishes, remember: gorgeous, fresh, seasonal vegetables will speak for themselves.  
Related: Fresh Spring Salads
HEARTY SALAD WITH GORGEOUS MUSTARD GREENS
More than just good looking, these mustard greens are sturdy and hold up well when cooked, and have a nice, sharp flavor and crunch when raw. 
BITTER & SWEET RADICCHIO SALAD
Combine bitter radicchio with a sweet dressing and fruits and you will have a perfect balance of flavors in this spring salad.  
CASHEW-GINGER STIR-FRIED VEGETABLES WITH EGG NOODLES
You can make your own egg noodles or purchase your favorite store bought variety. You can also skip noodles completely. 
ROASTED SPRING VEGETABLES WITH PESTO DRESSING
Pesto is the ultimate condiment to fresh roasted vegetables. 
Fruit salads make an elegant, easy dessert. 
Want stories like this delivered straight to your inbox? Sign up now for Jamie Geller's Weekly Newsletter.