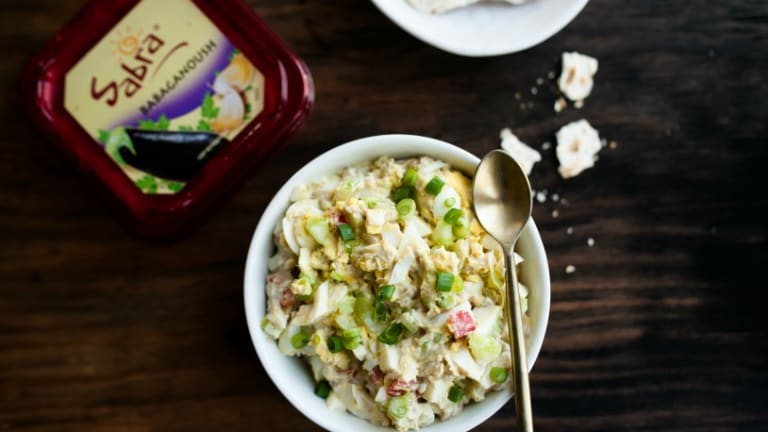 5 Ways To Swap The Mayo with Babaganoush
Mayo is a very popular condiment. Aside from the classic tuna and egg salads made with mayo, many people include it in every sandwich. The fact that it is also parve means even we kosher keepers can include it at every meal and there some people that do.
On Passover, regular mayo which is often made with canola oil is not available and instead the Passover versions don't quite compare. On a holiday when every ingredient matters, it is best to try something with a little more pizazz. Avocado is always a good all natural choice, but you still have to mash it up and some flavor. For something even more like mayo, try Babaganoush.
Sabra Babagnoush is made with mayo and is made kosher for Passover without losing any of it's great taste and texture. The roasted eggplant even displaces some of the fat compared to pure mayo, so that is a bonus.
Here are 5 Recipe ideas where babganoush will bring out the best flavor.
1. Egg Salad
Egg salad is really perfect with babaganoush. You can keep it simple or use this recipe for the full Israeli Egg Salad experience.
2. Tuna Salad
Make your tuna salad with babaganoush and add some schug for spice and celery for crunch.
3. Deviled Eggs
Try making deviled eggs with babaganoush instead of mayo.
4. Chicken Salad
After the success of this Chicken Baked in Babaganoush recipe, a chicken salad is a no brainer.
5. Potato Salad
Potato salad with babganoush and some roast peppers would be a perfect mix.
What do you think of these swaps, any other ideas? Please share in the comments below.
This post is part of an ongoing partnership we have with Sabra Dipping Co.