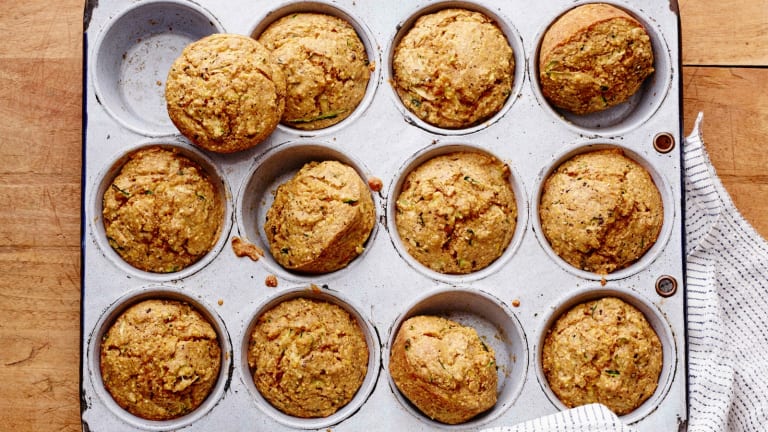 7 Healthier Treats to Bake with your Kids Today
My children's experience at Camp Zeke inspired me to rethink baking for kids. It also showed the tremendous capabilities kids have to accomplish a lot more then we sometimes imagine. 
Camp Zeke, located in the Poconos, is an overnight camp for children and young adults (ages 7 to 17) focusing on celebrating healthy, active living through fitness, cooking and farm-to-table gourmet food. When I first learned of this camp a few years ago, I thought it was a perfect fit for my three children. Cooking and healthy eating are central values for my family and I liked the way Camp Zeke was able to artfully weave these programs into a diverse Jewish camp experience.
My two boys started with Taste of Zeke, a 1 week trial, to see how they would do being away from home and on their own for the very first time. Suffice it to say, I didn't receive a note or a phone call and the ride home was filled with one story after another of the friends they made, their awesome counselors and, the amazing food -- which knowing my "picky eaters" -- was incredibly high praise. It was such a success that we sent them with their little sister for 3 weeks the following year. At the end of the 3 weeks, my daughter said she couldn't wait to go back, but only if she can go for the whole summer! That is just about the best review a parent can hope for.
The camp is not affiliated with any Jewish denomination, and non-coercive Jewish values permeate everything they do. Camp Zeke serves kosher food and offers a respectful and robust Shabbat program. Every day they have bunk activities, electives and every evening they come together for a camp wide community activity. Activities include running, soccer, yoga, strength training, dance, basketball, circus arts, martial arts, swimming, and so much more!  
Before Shabbat, campers work together to prepare a traditional Shabbat meal and they all dress up in their blue and white best for evening services and a festive dinner. On Shabbat day, the kids choose between traditional services, a spiritual hike, or yoga services with meditation. It is a time for quiet contemplation and spiritual reflection, and my boys loved it!​
For kids who think they are "too old" for sleep-away, Camp Zeke offers a program for young adults entering 10 through 12 grade where teens can take advantage of unique leadership building opportunities, mentor younger campers and counselor development training, along with the cooking, arts and sports programs Zeke is known for. There is also a Teen Travel alternative program where teens visit New York City, Philadelphia and Boston experiencing the best in fitness, culture and cooking.
The goal of Camp Zeke and other new Jewish summer camps is to provide more diverse opportunities to connect kids to their Jewish identity. My children go to a Jewish school and live an active Jewish life, but the opportunity to merge food, health and Jewish values at Camp Zeke gave them an even stronger spiritual connection.
I highly recommend Camp Zeke for anyone seeking a pluralistic Jewish camp experience that celebrates healthy active living in a warm and caring environment. For more information, email the camp's director, Isaac, at isaac@campzeke.org or call 212-913-9783.
7 Healthier Recipes Kids Love to Bake
1. Camp Zeke Aquafaba Brownies
Aquafaba is the liquid left from cooking legumes such as chickpeas and whips up to perfection making wonderful vegan friendly chocolate mousse and brownies.
2. Bittersweet Chocolate Date Truffles
We love these truffles because they look so glamorous and kids absolutely have a blast making them. The fact that they are made up of only 2 ingredients and achieve sweetness and texture from dates, makes these treats even better. 
3. Chocolate Chip Cookies (Gluten Free Option)
Use olive oil in place of margarine or butter. This recipe also successfully works as a gluten free option too. 
4. Baked Carrot Cake Doughnuts
There's nothing as exciting for kids as the sensory experience of mixing ingredients and crumbling it over vibrant, delicious fruit. 
No mixer needed for these easy to make veggie filled treats. Great option for picnics, lunch boxes and after-school snacks. 
7. Surprise Pull Apart Challah
Add healthier surprises, like fruit & nut butter. Substitute whole wheat flour & ground flax in place of white all-purpose flour in your challah dough as well. 
Like this article? Click HERE for 6 energy boosting snacks  your kids will love. 
Want articles like this delivered straight to your inbox? Sign up now for Jamie Geller's Weekly Newsletter.