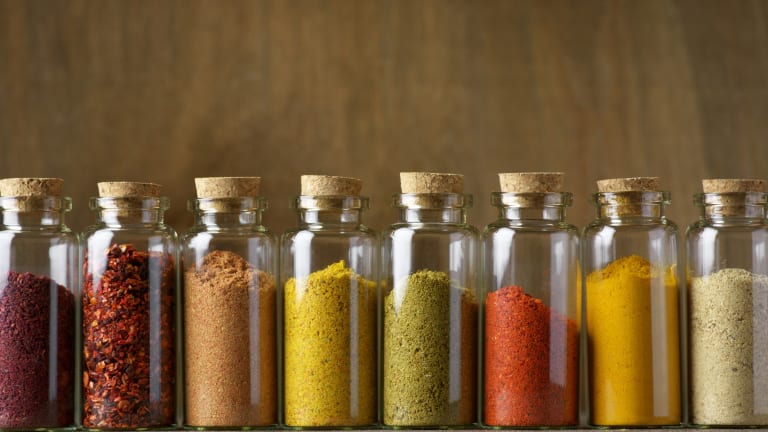 8 DIY Spice Blends You Must Always Have in Your Pantry
Spices give life to your food, so why use dull, packaged spice mixes? 
Now you can make your own spice blends with these recipes. Once you start keeping your own, fresh homemade blends, you will immediately see the difference in your cooking. Make sure to always keep your spices tightly closed in a cool and dry place to keep them fresher for longer time. Dry spice mixes will stay potent from 3 months up to 2 years if stored well.
1. HILBE
Hilbe is a Yemenite paste made of fenugreek powder, spiced with a kick of z'hug. It is used in many modern Israeli dishes, and is a favorite at the Shabbat table alongside kubaneh bread.  
USE THIS SPICE MIX IN:
MORE: Ready-To-Go Salad Fixins
2. Z'HUG
Z'hug, or schug, is the Yemenite version of hot sauce. It is very popular in Israeli dishes, especially on top of shawarma or falafel! There are several varieties, including red, green, and brown. This green version is rich with cilantro, parsley, and jalapeño peppers.   
USE THIS SPICE MIX IN:
MORE: DIY Tea Blends
3. HAWAYIJ
Hawayij (also spelled Hawayej or Hawayij) is a mixture of ground spices originally from Yemen. It is used it soups and coffee, as well as many other dishes in modern Israeli cuisine.   If you don't feel like making your own order Jamie Geller Hawaij here. 
USE THIS SPICE MIX IN:
Now you can make your own onion soup mix so you don't have to use the MSG that comes in so many of them. It looks like a lot of ingredients, but once you make a batch it can be stored in your cupboard like any other spice.  
USE THIS SPICE MIX IN:
WATCH the Homemade Healthy Onion Soup Mix tutorial video here!
If you can't find chinese five spice powder, or just prefer to blend your own here is how to do it.  
USE THIS SPICE MIX IN:
MORE: The Szechuan Peppercorn Story
"This spice mix was created by me to be able to taste Jerusalem even if I am not there. It puts together flavors of the Jerusalem market and each time you use it you will think you are there now. You can use this spice mix with many meat and chicken dished so make a big amount and keep in the freezer." -Chef Shlomo Schwartz
Order Jamie Geller Jerusalem Mixed Grill here. 
USE THIS SPICE MIX IN:
MORE: Spice Rub for Grilling Meat
7. DUKKAH
"I first discovered Dukkah at Trader Joe's and then found the internet abuzz about this spice. My whole family fell in love and I began to make my own. I adapted this from Yotam Ottolenghi's recipe, but there are so many variations, give this at try and then make it your own." -Tamar Genger MA, RD
USE THIS SPICE MIX IN:
MORE: 7 Herb Hacks and Recipes
8. MAGIC SALT
"This seasoned salt substitute is so popular in our house, the kids call it magic. We sprinkle it on frozen French fries before baking for delicious spicy fries, on popcorn, on chicken cutlets sautéed with onions, on zucchini before oven- or pan roasting, on Amnon fish (tilapia) with a little lemon juice and olive oil before baking… whatever you can think of! While I have greatly reduced the salt from the original form of the recipe, feel free to further adjust it to your preference." - Dvora Rotter
USE THIS SPICE MIX IN: