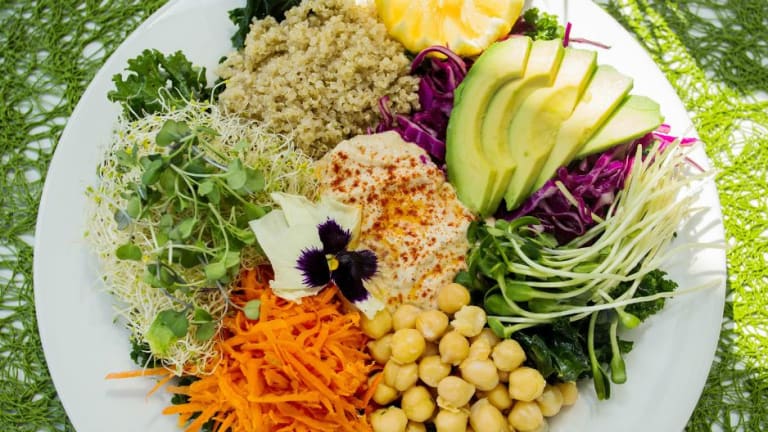 3 Fresh, Vegan, Organic Recipes From Fala Bar
At Fala Bar we are taking a new approach to the fast food market. While we're keeping the "fast" method intact, we're only offering organic and vegan menu options, containing only the purest and healthiest of ingredients. Our biggest edge within the vegan food industry comes not only from the fact that it's "fast food" available for pick up or delivery, but also from its lack of "fake" meat and dairy substitutes. This creates a huge appeal to the vegans and meat eaters alike. It is important to us that our customers recognize everything on our menu and when nearly every ingredient comes from the earth, it makes it very simple. We also pride ourselves on being a preservative and sugar-free kitchen and reducing our carbon footprint by using biodegradable containers and silverware.  
Here are 3 delicious recipes straight from our menu to your table!
A new Fala Bar favorite, the vegan Kale Burger made with a kale falafel patty and topped with house-made Thousand Island dressing, lemony kale, pickled purple cabbage, grilled onion & avocado. It has the California sun written all over it with nutrient dense kale and Fala's favorite beauty food, avocado, aka The Fountain of Youth.
This is the perfect plant strong salad that can be added to anything on the menu as a scoop, eaten on its own or made more into a meal with the addition of falafel, of course. We recommend the sweet potato! It's protein-rich with quinoa and garbanzo beans and detoxifying with lemon, maple and mint leaving you with a sense of the spa life.  
One of our favorite and most popular recipes is our Fala Me to KALEifornia salad with the option to add falafel. It's a powerhouse, nutrient dense salad loaded with superfoods such as kale, quinoa, sunflower and other sprouts, healthy fats from avocado and tahini and protein rich with garbanzo beans and hummus. It's also very beautiful and garnished with an edible flower. 

Want stories like this delivered straight to your inbox? Sign up now for the Joy of Kosher Weekly Newsletter.