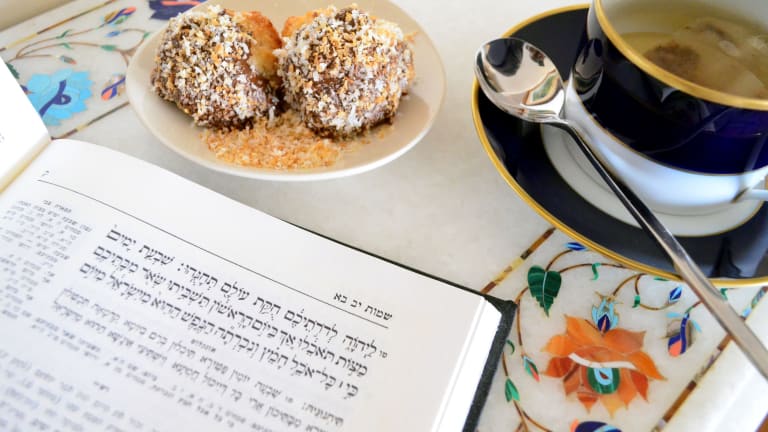 A Taste of Torah: Parashat Vayeishev Recipe
A Taste of Torah is a unique cookbook that provides your family with a weekly portion of great food, Divrei Torah, and Jewish stories for their families to enjoy. (Scroll down to win a copy of this cookbook!)
Picture a Shabbat table covered with delicious foods that your children can proudly say they helped prepare. Shabbat comes alive when the week's parashah – and your children's own handiwork – is beautifully laid out on the Shabbat table. Each recipe is followed by a Dvar Torah for your older children and a bedtime story for your younger "sous chefs" based on the same Jewish principles featured in their older sibling's Dvar Torah. 
  My goal was to create a kosher cookbook that helps families cook delicious meals for Shabbat while creating quality family time," says author Aviv Harkov. "I often cook with my young cousins by my side and realize that it's not simple to keep kids engaged and entertained while preparing a Shabbat meal. So I strove to remove the stress for parents by providing meals they could cook with young sous chefs, and entertaining stories filled with Jewish values.
"On the grapevine were three tendrils; and it was as though it budded – its blossoms bloomed and its clusters ripened into grapes." (Parashat Vayeishev, Bereishit 40:10)  
This salad has a sweet taste and unique texture adored by sous chefs of all sizes. Its quick and simple preparation makes it easy to produce any day of the week.
Gefen Publishing House, the leading publishing house in Israel, will release A Taste of Torah by January 2016. The cookbook is available for pre-order at a discounted price via Indiegogo.
Want stories like this delivered right to your inbox? Sign up now for our *free* JOY of KOSHER Newsletter.