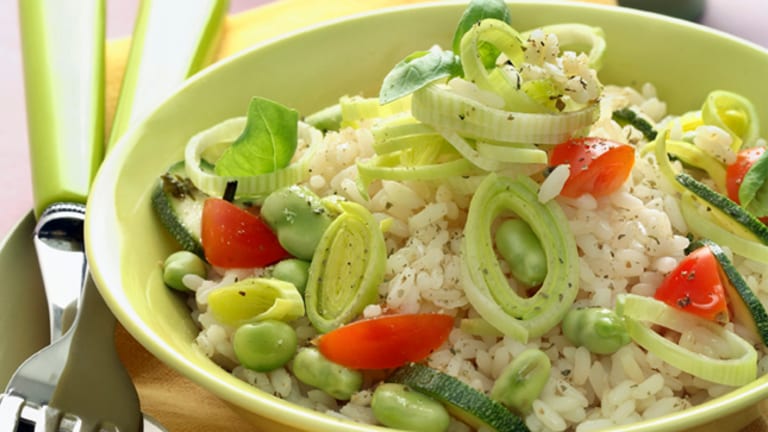 Beat The Heat: Italian Style with Pasta, Bread and Rice Salads
Nothing in the kitchen spells summer and vacation for me the way cold rice and pasta dishes do. When I was growing up in Italy, people were still wary of air conditioners, suspecting that they caused all kinds of ailments, from eczema to pneumonia. In the absence of a serious cooling system, we resorted to a variety of tricks to manage the heat, including an endless variety of dishes to be enjoyed cold.
Among them, rice and pasta salads were probably the most popular - because, with the addition of vegetables and some type of protein, they could easily be made into a one-course meal, packed into the trunk of our Vespas and taken to the beach. Because they keep well in the refrigerator for days.  Because these dishes were also traditional survival staples for working husbands left behind in the sweltering city when their wives and kids are away on vacation. 
While some modern versions of pasta salad are real treif-fests, combining salami and cheese, it appears that the first to come up with the idea of serving linguine at room temperature were actually the Italian Jews, in order to be able to enjoy them for Shabbat lunch. The traditional recipes feature very simple egg noodles dressed in the juices leftover from roasting meat, combined with egg and lemon, or a light tomato sauce.
But there is another cold dish that I love making, because it brings me back to my grandmother's orchard in Tuscany where I would spend part of my summers as a child. It's Panzanella, a salad made from leftover bread, originally devised to make stale bread palatable when there was not much else to eat. Like many other Tuscan specialties of peasant origins, it's now commonly seen as an appetizer at elegant city restaurants!
All these cold dishes are fun to experiment with: my favorite rice salad is something I came up with one day when I came back home late from work before Shabbat, and I had nothing left in the refrigerator but smoked salmon, avocado and a bunch of chives… Just remember to keep it simple – try not to add more than one or two protein ingredients, or your salad will lose "focus" (and you'll end up with a caloric bomb!).
13 Pasta, Rice and Bread Salads
Mediterranean Salad with Eggplant
Photo credit -
Fuoco Variabile - Milan
fuocovariabile@gmail.com