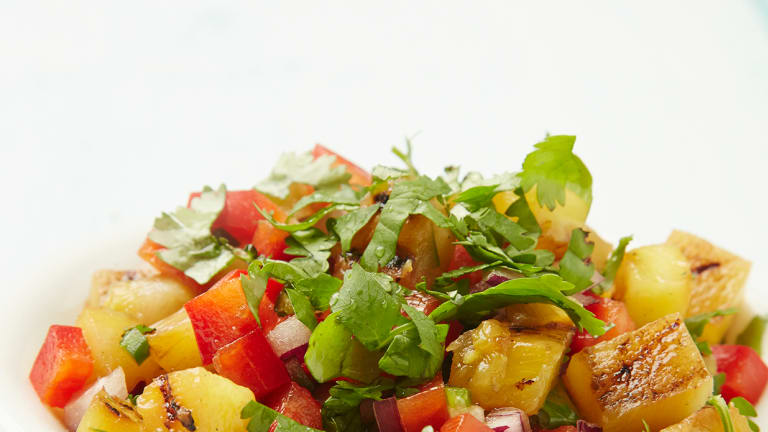 Beyond Fruit Salad: 5 Incredible Ways to Cook Your Fruit
Fresh produce is a driving force behind menu planning from all over the world. There is so much you can do using fresh fruit, from sides to sauces to soups and desserts.
Using fruit in a dessert is obvious, but you may not realize how elegant a fruit dessert can be. Feel free to customize with a different kind of nuts, or add ¼ cup of chopped chocolate to the filling, and garnish with chocolate curls for a crowd-pleasing variation.   
MORE: 7 Reasons Why You Want to Eat the Whole Watermelon
BUTTERNUT SQUASH, APPLE AND GINGER SOUP
This tasty Butternut Squash, Apple and Ginger Soup is is spiced with ginger and coriander then pureéd for a creamy texture.  
If you haven't tried grilled fruit, you won't believe the mouthwatering flavor that results when sturdy fruits like pineapple and peaches meet a smoky grill. Serve warm grilled fruit with ice cream for dessert, skewer fruit and chicken into a kebab, or try this smoky, spicy salsa on any grilled meat. 
MORE: 3 Healthy Summer Smoothies
Crisp and refreshing, this delicate, monochromatic salad is simply delightful. Serve as part of a salad course, in small cups as an appetizer, or as a salsa over mild white fish such as tilapia.
MORE: 3 Great Summer Picnic Recipes
This slow-simmered fruit sauce will remind you of duck sauce, but with an unmistakable fresh flavor. Customize it with optional add-ins like ginger, jalapeño pepper, garlic, or balsamic vinegar.
Recipe originally published in JOY of KOSHER with Jamie Geller Magazine Passover 2014 SUBSCRIBE NOW
Want stories like this delivered right to your inbox? Sign up now for our *free* JOY of KOSHER Newsletter.