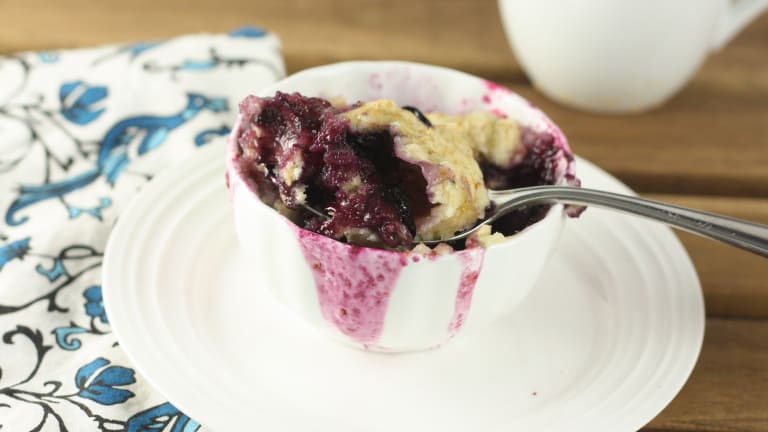 Breakfast Cakes in a Mug
I absolutely adore breakfast. Big brunch type meals savored with bottomless cups of coffee while sitting around the table with family and friends. But the reality of life is that we seldom have time for those types of breakfasts. Instead, breakfast is usually a rushed scramble as we run around packing lunches and getting everyone ready and out the door. While there is no getting around the fact that everyday breakfasts will never be relaxed, that doesn't mean we have to settle for the same boring thing everyday. Therein lies the magic of microwave cakes in a mug made healthier for breakfast.
Mug cakes are very popular these days, in large part due to their ease and convenience. A mug cake is an individual serving of cake, cooked in the microwave, and ready, start to finish, in less than 5 minutes. Usually they are decadent treats, full of chocolate or sprinkles, but there is no reason you cannot use the same basic method to make quick delicious breakfasts that allow you to break free from breakfast boredom, even on a rushed weekday morning.
This gluten free pumpkin mug cake is the perfect warm cozy breakfast that always makes me feel like I am taking the time to feed myself well. 
MORE: Browse All Our Pumpkin Recipes
It has the texture of a steamed pudding with a bit of sweetness from the sweet potato and warmth from the pumpkin pie spices. The two eggs give it a nice boost of protein but it doesn't taste overly eggy. The sweetness of this Pumpkin Mug Cake will vary dramatically depending on the sweetness of the sweet potato and pumpkin. This is more of a savory recipe, and is not overly sweet. If you prefer things sweeter feel free to add a bit of honey or drizzle some maple syrup over the top for the finished cake. This naturally sweetened grain free treat is a fantastic to way to start off the day, especially as the weather turns colder.
BLUEBERRY LEMON MUFFIN IN A MUG
If you are looking for something like a muffin for breakfast, this blueberry lemon muffin is one of my favorites. Because it is made in the microwave it has a softer and somewhat sponger texture than a traditional blueberry muffin, but the oats give it just the right amount of chewiness to offset the jammy cooked blueberries. 
MORE: Must Have Muffin Mania
It can even be made with whole wheat pastry flour in order to make it an entirely whole-grain and guilt-free way to fuel your day.
CINNAMON BUN FRENCH TOAST IN A MUG
While most of the time I try to stick with healthy breakfasts, there are days that just call for a bit of indulgence. And a single serving of indulgence can be made in less than five minutes with this decadent Cinnamon Roll French Toast in a Mug. 
MORE: Brunch White Bread Recipes
One of the challenges of mug cakes is that, since they are cooked by steaming in them in the microwave, they tend to have a soft uniform texture. French toast is delicious in part because of the textural difference between the chewiness of the bread and the creaminess of the custard. I wanted to make sure that this French toast had that same textural contrast, and toasting the bread before soaking it in the custard creates the much needed crunch that is often missing from mug cakes. This recipe is truly delicious, and is the perfect way to make any morning feel like a special occasion.
Breakfasts in a mug, once you start making them you might never go back to cold cereal again.
Want stories like this delivered right to your inbox? Sign up now for our *free* JOY of KOSHER Newsletter.