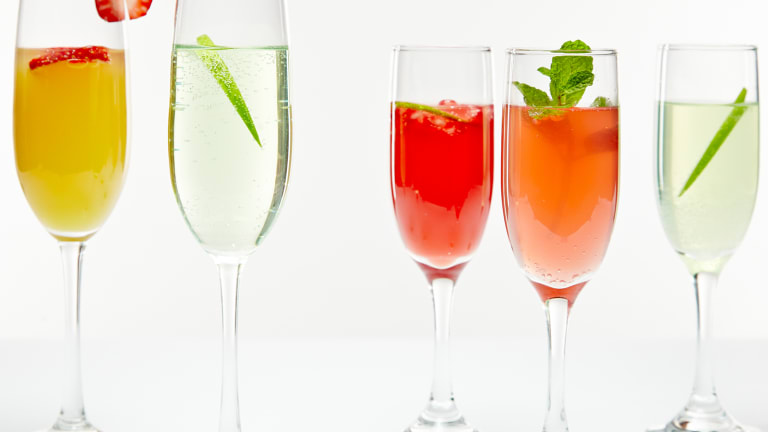 Bubbles All Around: 4 Fantastic Purim Party Cocktails
Jews may not be known for "ringing in" the Jewish New Year with champagne and frivolity, but we sure know how to have a good time when the month of Adar arrives and the holiday of Purim rolls around. 
Celebrating (once again) our people's survival at the hands of an enemy bent on destroying us, we are actually commanded to be joyful! We are also encouraged to share that joy and our individual good fortune with our fellow Jews. So, this Purim, consider sharing something bubbly with your friends and family while retelling the story of the day. 
The simple flavor and garnish guide below gives you a foolproof, fun-filled, and visually arresting recipe for putting together a "Champagne Bar" in honor of the holiday. To make sure these drinks are eye-popping (and really easy to make) I like to use the Stirrings brand line of cocktail mixers.  They come in great flavors and colors, are readily available, and carry the OU markings. For the bubbly any dry sparkling wine will do, find kosher champagne and sparkling wines here.
So whether you're expecting lots of guests for a full, festive Purim meal, or just serving surprise visitors for an impromptu "L'Chaim!," you can quickly mix up as many of these lovely libations as you like.
Get the full detailed recipes: BUBBLY MIXERS WITH VARIATIONS
4 Fantastic Purim Party Cocktails
1.   Green Apple Bubbler:  
Stirrings Brand Mixer: APPLE MARTINI
Drink Color: GREEN APPLE
Garnish Suggestions: THINLY SLICED GREEN APPLE
2.  Pomegranate Bubbler:  
Stirrings Brand Mixer: POMEGRANATE MARTINI
Drink Color: PINK
Garnish Suggestions: POMEGRANATE SEEDS AND LIME SLICE
3.  Watermelon Bubbler:  
Stirrings Brand Mixer: WATERMELON MARTINI
Drink Color: WATERMELON RED
Garnish Suggestions: SPRIG OF MINT OR ROSEMARY
4.  Lemon Drop Bubbler:  
Stirrings Brand Mixer: LEMON DROP
Drink Color: BRIGHT YELLOW
Garnish Suggestions: STRAWBERRY