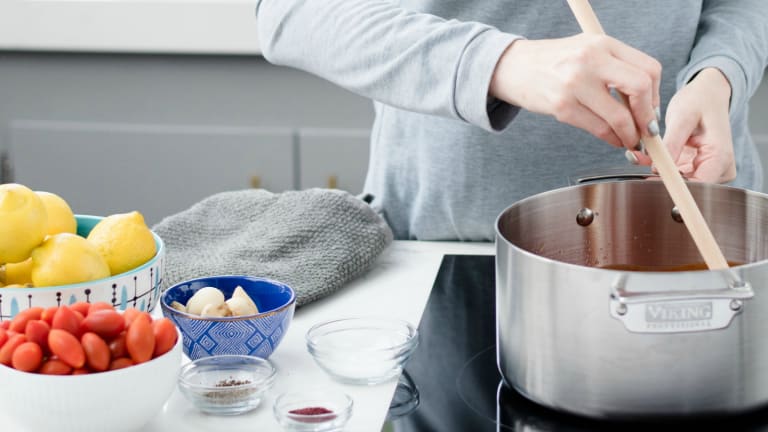 Building Our Dream Test Kitchen

At the center of every home is the kitchen. A place to nourish, gather, relax and refuel.
Our kitchen, the space formerly known as Chef Laura's office, needed to transform into not just a test kitchen, but also a show piece. We needed to create a space that would wear many hats--a recipe testing ground, a video set, a photography studio and still be a place to gather, chill out and yes, EAT!
KITCHEN BEFORE
KITCHEN AFTER
As the leaders in kosher and Jewish lifestyle, we want our kitchen to inspire readers to jump in the kitchen and create meals for their families. So we chose our brand partners very carefully.
STATE OF THE ART DESIGN
We started with cutting-edge appliances from Miele. When it comes to the modern home kitchen, they are setting the standard with their latest in induction ranges, convection ovens, and refrigerators. 
Induction is a transfer method of cooking that's high-tech, green, accurate, and provides turbo-speed, precise heat. Magnets inlaid in the glass detect and only heat the burner directly under the pan, so the rest of the cooktop stays cool, and there's no heat build up. Meaning, kitchens and homes stay cooler, it's safer (reducing burns), and your home uses less energy. Plus, Jamie and Chef Laura  love that it takes only 4 minutes to boil water on an induction cooktop (electric takes 7 minutes; gas 8 minutes).
Who doesn't like to be serenaded in the kitchen? Miele ovens play a little tune when you turn them on and off, but's that's not the only cool thing about them. 
With the amount of challah we make, the oven's steam feature ensures our bread comes out looking and tasting bakery-fresh.
The built-in refrigerator/freezer is unlike any we've ever seen (and we joke that it's like a spaceship). With humidity-specific controls, we can monitor how different areas of the fridge are chilled, so we get fresher produce that lasts longer.
ALL HAIL CAESAR(STONE)
While appliances are the centerpiece of the kitchen, the countertops are what you first admire. Jamie loves bright, sophisticated and WHITE kitchens, and Caesarstone is known for their collection of durable, scratch resistant quartz, granite and marble. 
We wanted countertops that are not only functional, but also WOWED our audience in our videos and food photography. Enter the waterfall island (technically it's a peninsula), that looks like one large block of stone in the middle of the kitchen--talk about a show piece! We chose Statuario Maximus collection which looks like it was pulled right from the ground with its sparkly white, mossy-grey vein that runs through them.
CLEAN IS TOP OF MIND
In most minds, kosher means clean, so we went with the cleanest sink in the biz, from TOPZERO. These seamless undermount sinks (they install them with a hydraulic lift!) fit like a glove, flushmount to your countertop so no gunk builds up between the counter and the sink. And their sleek, luster finish makes them the apex of sink design. (It's a thing!)
BRINGING THE OUTDOORS IN
Just like a home kitchen, ours looks out onto a backyard, too. The view includes an abundance of moss and gray cedar, so we pulled these outside colors in. Mindful Gray reminds us of our backyard, and with our huge wall of windows we wanted the kitchen to flow right into the mossy yard.
TOOLS OF THE TRADE
While appliances are important for cooking and storing food, a cook's tools are the first step in preparing meals. And a great set of sharp knives can make all the difference in the kitchen. Chef Laura and Jamie both chose built-to-last-a-lifetime Wusthof knives. 
With an induction range, the cookware we use really matters. We chose 5-ply stainless steel pots and pans from Viking. Not only are they durable, but they distribute heat evenly, so everything comes out delicious.
Mixing bowls, platters and, plates are important, too, so we chose a selection of classic and fun kitchenware from Gibson.
GIVING PROPS
While the kitchen is fully functional, its needs a little style. Enter Free Spirit Designs, responsible for curating kitchen props that accent our space and show off Jamie's style. Plus, you can get the same things in our kitchen for your own home through our friends at Vintage Arts Inc.
And speaking of props, we couldn't have done any of this if it weren't for Jan and Holly, the team behind Vintage Arts Inc. They led the construction, painting, custom cabinetry, and overall build out.
BONUS: A LITTLE EXTRA GREEN
Fresh herbs and produce take your home cooking from ho-hum to yum-yum. That's why we asked Avant Gardens to build us an indoor and outdoor garden so we have access to all the fresh greens we need.
We hope our kitchen will inspire your next kitchen renovation. Tune in for our videos, kitchen and food pics and see what kitchen props we'll be using next.
Want to see more? Check out our journey from bland office space to our absolutely amazing, fully-functioning, to-die-for test kitchen.
Thanks to our many wonderful partners who donated their time, products, and expertise to our gorgeous kitchen! Now...let's cook!
THANKS TO THESE TEST KITCHEN PARTNERS: