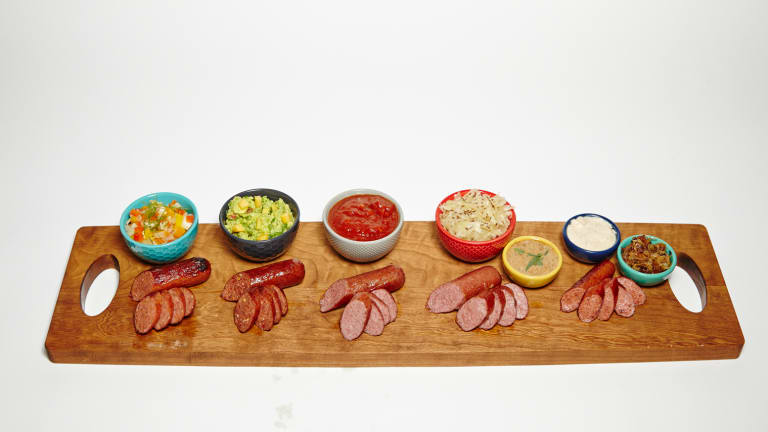 Burger and Sausage Bar
Sometimes, a simple, easy-to-prep ingredient can be elevated by unique toppings and condiments. This summer, while you're grilling up sausages and burgers, quickly prep your choice of the following gourmet, seasonal toppings. Avocados, tomatoes, eggplant, peppers, garlic, and peaches shine during the summer and will add that extra wow-factor to your Sunday barbecue get-togethers.
We turned to sausage expert and trained chef Jack Silberstein, founder and CEO of Jack's Gourmet to share his favorite recipe ideas.
MORE: The Evolution of Jack's Gourmet Kosher Sausages
MEXICAN BURGER
These spicy burgers are just as delicious and satisfying as any classic burger with the added Mexican flavor of Pico de Gallo, tortilla chips and avocado.  
ITALIAN BURGER
These easy-to-make, robust burgers are just as delicious and satisfying as any classic burger with the added flavor of the roasted eggplant and earthy arugula. 
Each of the following toppings pairs well with a different kind of sausage. Try them all! 
MEXICAN-STYLE SAUSAGE + PEACH GUACAMOLE
Guacamole is a classic Mexican condiment. The peaches add a burst of sweet, summer flavor.
MORE: All the Wonderful Things You Can Do with Guacamole
BRATWURST + TARRAGON MUSTARD + BEER-BRAISED SAUERKRAUT
Beer, bratwurst, mustard, and sauerkraut is a classic combination, creatively combined by braising sauerkraut in beer.
MERGUEZ SAUSAGE + CARAMELIZED ONION & ROASTED GARLIC DIJONNAISE
The sweetness of the caramelized onion and roasted garlic balances the spicy merguez. The mustard adds the perfect level of tang.
MORE: How to Make Caramelized Onions - 3 Ways
ITALIAN SAUSAGE + FENNEL-PEPPER RELISH
The subtle anise and sweet pepper flavor in a classic Italian sausage is highlighted with this fresh relish.
MEXICAN-STYLE CHORIZO PATTY + PICO DE GALLO + SLICED AVOCADO + TORTILLA CRISPS
This combination is Mexico in a bun and celebrates bright summer produce as well.
SWEET ITALIAN PATTY + FRIED EGGPLANT + TOMATO SAUCE + BABY SPINACH OR MICRO GREENS
A play on the Italian classic: eggplant parmigiana.
BOERWORS + CURRIED TOMATO SAUCE
South African sausage combines with another South African staple: curry.
Article published in JOY of KOSHER with Jamie Geller Summer 2015. Subscribe Now.
Want stories like this delivered right to your inbox? Sign up now for our *free* JOY of KOSHER Newsletter.