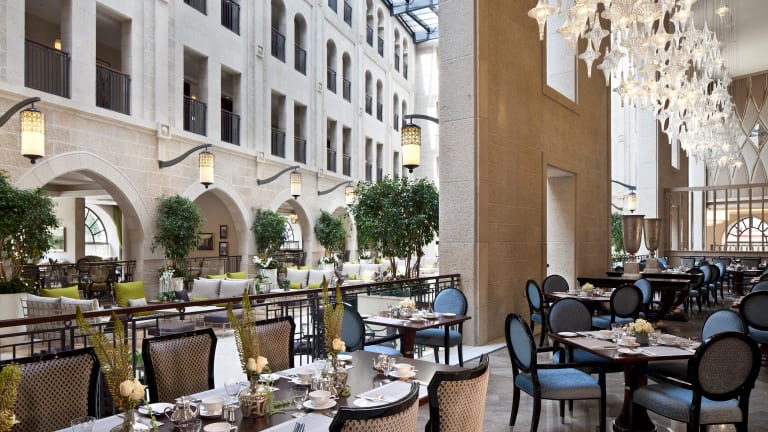 Can You Guess What It Takes To Prepare a Luxury Hotel for Passover?
At the award-winning luxury hotel, Waldorf Astoria Jerusalem, Passover preparation is an exercise of military-scale proportions. Recently voted the top-hotel in the Middle East by Conde Nast Traveller Magazine, the Waldorf Astoria has become a leading destination for discerning travelers to Israel's capital. 
Given the strict parameters involved in operating within kosher for Passover guidelines, nearly the entire hotel staff takes part in these preparations. Much of the planning begins weeks in advance of the holiday with an estimated 800 hours put into simply preparing the kitchen and dining facilities to welcome hundreds of guests who arrive for the week of Passover.
MORE: Stepping Into History at the Waldorf Astoria Jerusalem
The process of "koshering" the complex for Passover involves ensuring that all food preparation and serving areas are thoroughly cleaned and examined for even the slightest remnant of leavened products (chametz). Supervising this process is a team of 15 kashrut supervisors, or mashgichim, who work at all hours of the day and night and are specifically trained in the intricate laws involved in preparing a facility of this size. The kitchen staff is complemented by a team of 30 stewards who assist in cleaning and bringing in new equipment and dishes just for the Passover period.
"Preparing for Passover is a process that involves a high level of coordination and weeks of planning to ensure that we are providing the best possible service for our guests," says Guy Klaiman, the Waldorf Astoria's General Manager. "But we know that thorough attention to detail, which involves every member of our team, is what creates the true luxury experience and allows our guests to appreciate that they are being afforded the best service imaginable." 
Culinary operations for the holiday will be supervised by Executive Chef Itzik Barak. Barak has established an international name in the culinary world after recently being selected as one of only five chefs to compete in the Taste of Waldorf competition.
MORE: Exclusive Q&A With Famed Chef Itzik Mizrachi Barak
Chef Itzik has prepared a menu that would be fit for kings for this year's seder. Guests can choose among at least eight choices, including slow cooked veal with celery and root cream, roasted beets, seared duck liver, and paté wrapped in pistachio with a tomato chutney.
The hotel's Pastry Chef Claude Bensimon, raised and trained in France, similarly views Passover as a challenge that brings out the best in any enterprising chef. "The best deserts are not simply a matter of what ingredients we have to use but what we do with them and Passover, despite the absence of wheat flour, challenges me to think out of the box which allows for better and more creative dishes."
MORE: A Taste of Waldorf Astoria in Jerusalem
In advance of the upcoming holiday, Waldorf Astoria Jerusalem has recently announced an exclusive partnership with EL AL Israel Airlines to offer guests the option to check in for all El Al flights departing from Ben Gurion Airport from the hotel's business center, relieving them from the hassle of bags and long security lines at the airport.
"Every year, Jews around the world pray to celebrate Passover 'next year in Jerusalem'," said Klaiman. "We are honored to host those who chose to make that a reality and wish our Jewish brothers and sisters all around the world a wonderful holiday." 
Don't miss the latest issue of JOY of KOSHER with Jamie Geller magazine for more about the Waldorf Astoria Jerusalem including tips, tricks and recipes from Chef Itzik and the whole staff.  Order your copy here. 
Want stories like this delivered right to your inbox? Sign up now for our *free* JOY of KOSHER Newsletter.