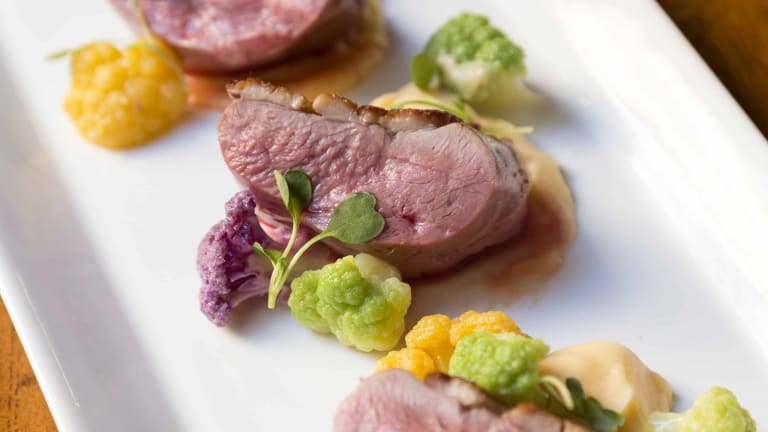 Cookbook Spotlight: Le Marais
Le Marais restaurant is NYC's only kosher French brasserie, renowned for its excellent cuisine and in-house retail butcher shop since 1995. Executive Chefs Mark Hennessey and Jose de Meirelles have teamed up to share their secrets and stellar recipes, and the result is the release of their cookbook, Le Marais: A Rare Steakhouse - Well Done. 
Get to know the personalities behind the Le Marais restaurant experience while learning how to create its incredible  delicacies at home. In sections covering sauces, soups, salads, bread, pasta, risotto, beef, lamb, veal, poultry, fish, sides, and desserts, this beautifully  illustrated cookbook gives you the techniques and  recipes you'll need to bring French gourmet into the kosher kitchen (or any kitchen).
Hip and irreverent, the Le Marais: A Rare Steakhouse - Well Done cookbook is your entrée to the world of French cuisine that just happens to be fully kosher. Braised duck legs with white pearl  onions and petite pois, anyone?
Here is a sneak peek of the recipes you will find in Le Marais ...
PAN-ROASTED BREAST OF DUCK WITH FRENCH GREEN-LENTIL SALAD
A duck breast is always an elegant component to a meal. The elements of this can all be made in advance and then just put together at the service time. The cardinal sin is to overcook the breast; the highest acceptable temperature is medium, and even that is pushing it. If it doesn't have a pink hue throughout the entire breast, it's overcooked.    
This juicy Whole Roast Prime Rib of Beef is topeed with a red wine-based Jus, and is perfect for any special occassion.  
AIRLINE BREAST OF CHICKEN FORESTIERE
The airline breast is a more sophisticated way of serving the usually boring chicken breast. Also, cooking it in this fashion helps to keep the meat from drying out.   
Recipes posted with permission from Le Marais: A Rare Steakhouse - Well Done, by Mark Hennessey and Jose de Mereilles
Want stories like this delivered right to your inbox? Sign up now for our *free* JOY of KOSHER Newsletter.