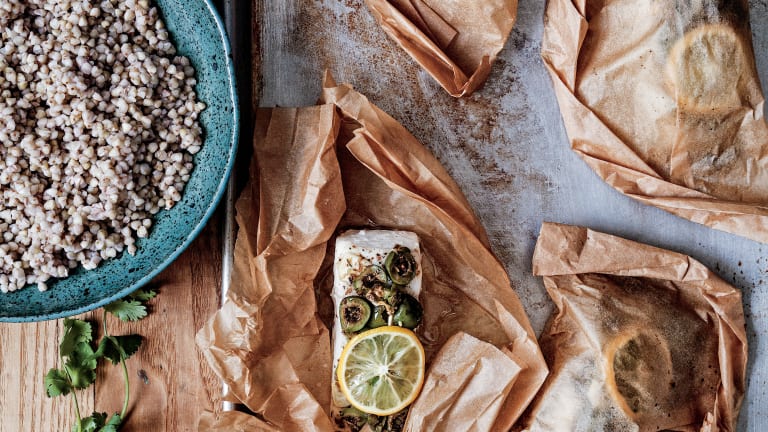 A Look Inside The Covenant Kitchen Cookbook
The Covenant Kitchen: Food and Wine For The New Jewish Table is the ultimate kosher cookbook for food lovers. It contains more than one hundred mouthwatering recipes complete with suggested wine pairings, from the veteran cookbook authors and owners of the acclaimed Covenant Winery in California.
Filled with the flavors of Italy, Provence, North Africa, Asia, California, and Israel, these original, easy-to-prepare recipes take kosher dining to a new, contemporary level of sophistication with detailed suggested wine-pairings for the recipes. The Morgans have written a cookbook that respects Jewish customs, gives traditional food creative culinary makeovers, and introduces flavorful new dishes that will quickly become family favorites. 
KEEP READING AND SCROLLING FOR A CHANCE TO WIN!!
The Covenant Kitchen includes informative sidebars on how to select the right wine for any occasion, on the requirements for kosher food preparation, and on how to prepare the basics. With sample menus for Jewish holidays and the fascinating story of wine in ancient Israel and throughout Jewish history, The Covenant Kitchen puts a fresh spin on one of the world's oldest culinary traditions.
Here are 3 delectable dishes from The Covenant Kitchen with their wine-pairing tips.
This Smoked Salmon Frittata with Gruyère and Fresh Herbs is especially good for brunch, perhaps with a glass of sparkling wine. But eggs pair very well with both white and red wines. The saltiness of the smoked salmon leads us to a cool, crisp white wine. But on a cold winter day, red wine would be our choice.
From a wine perspective, chicken is perhaps the most versatile of meats. It tastes great with red, white, or pink wines. This Apple-Stuffed Rosemary Roast Chicken with New Potatoes can go with almost anything.  Among reds, robust Cabernet or Syrah would make a marvelous match here. But so would lighter-styled Pinot Noir or spicy Zinfandel. If you prefer white wine, try a fruity white Riesling or Gewürztraminer. A rich, barrel-fermented Chardonnay would be nice too.
The Halibut Pockets with Spiced Olive Tapenade and Kasha  will go with any refreshing, light-textured wine. Among whites, Sauvignon Blanc, Viognier, Roussane, Riesling, and Chenin Blanc are good choices. Reds tend to be too rich, but a light-bodied Pinot Noir would make a fine choice. So would a dry rosé—technically a red wine that drinks more like a white.
Recipes, images and wine pairing are excerpted from The Covenant Kitchen by Jeff and Jodie Morgan. Copyright (c) 2015 by Jeff Morgan and Jodie Morgan. Excerpted by permission of Schocken, a division of Random House LLC. All rights reserved. No part of this excerpt may be reproduced or reprinted without permission in writing from the publisher.
Get more recipes like these each with its own wine pairing when you buy the book, here and/or enter to WIN a copy below!!