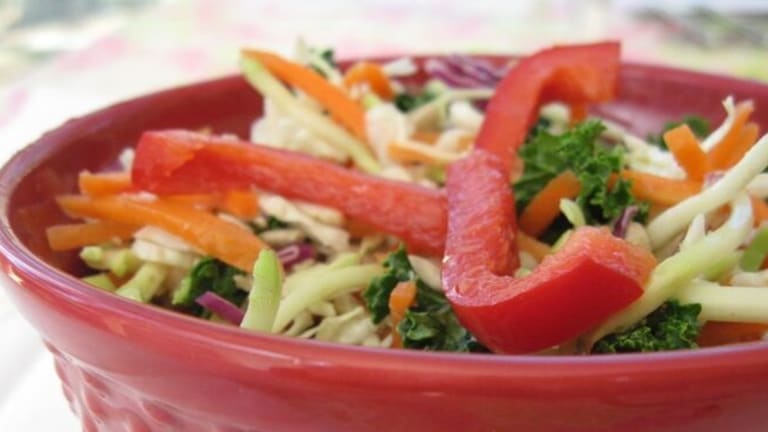 Cookbook Spotlight: The Healthy Family, Healthy You
With my "Substitution is your Strategy" philosophy, you can have the foods you enjoy; and with a little thought and not much effort, you can enjoy them guilt-free and in a way that actually contributes to, rather than detracts, from your health.
On a personal and communal level I believe we have a responsibility to feed one another delicious AND healthy food, especially when hosting someone else for a meal. Jewish celebrations should not lead to guilt about food choices.
In my new cookbook, The Healthy Family, Healthy You, I provide healthy recipes for families for those nights when you have about 15 minutes to get dinner on the table, in addition to those times when you have 10 people coming for a Shabbat meal or other simcha. We don't have to choose between communal eating and health. We can have both. Nothing makes me happier than when a dedicated and proud carnivore leaves my vegan Shabbat meal saying they are full and satisfied. They find it revolutionary! 
Make these recipes for your family and friends and let's spread the revolution!
REVOLUTIONARY HEALTHY ASIAN SLAW
 Several participants in my yoga class were raving about a popular version of Asian slaw and handed me a copy of the recipe. I admit that I love this dish when it is served to me at other people's homes. However, seeing the actual ingredients, such as 1 cup of sugar and 1 cup of oil, practically gave me a heart attack! I promised to return with a healthier version. This is my creation; Revolutionary Healthy Asian Slaw. I knew it was a hit when, after posting it on my blog, a friend actually brought it to a potluck lunch at MY house!  
This Vegan "Chicken Parmesan" is a yummy treat for when you want a "vegetarian meat" but want to avoid the over-processed stuff. Typical fake meats are high in sodium and contain MSG in various forms, along with soy protein isolate, both of which may cause gastric distress, among other health issues.This recipe is not only easy to make, it acts as a sophisticated main dish for your adult guests, and you can make "sticks" that your kids can dip into marinara sauce. (In that case, they can also be called vegan mozzarella sticks!)   
Haimish (home-style) food doesn't need to taste bland. This modern recipe takes a classic borscht recipe, deepens the flavor using cherries, and replaces processed sugar with dates and agave nectar. Because it doesn't need to be heated, borscht has always been a logical choice for a Shabbat lunch first course. However, the easy-yet-impressive garnish brings a new sophistication to an old-fashioned dish. Instead of thinking, "been there, done that," your guests will be asking you for the recipe!  
Recipes are reposted with permission from The Healthy Family, Healthy You Cookbook, by Natasha Rosenstock Nadel. 
Want stories like this delivered right to your inbox? Sign up now for our *free* JOY of KOSHER Newsletter.