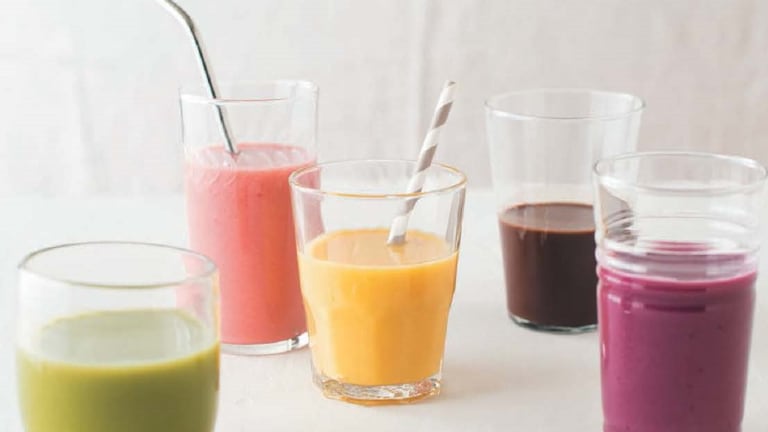 Cookbook Spotlight: The New Milks
The first comprehensive, definitive guide to non-dairy milks, The New Milks: 100-Plus Dairy-Free Recipes for Making and Cooking with Soy, Nut, Seed, Grain, and Coconut Milks, by Dina Cheney, explains how to make and customize all types of vegan milks, with 113 delicious recipes and handy comparison charts, tips, and guidance for choosing the right dairy-free milks for cooking and baking. 
Whether you're paleo, vegan, lactose intolerant, kosher, or just plain adventurous in the kitchen, your non-dairy options now encompass far more than soy, coconut, and almond milks. Consider grain milks, such as oat and barley; nut milks, such as cashew and hazelnut; and seed milks, such as sunflower and pumpkin. Which ones bake the best biscuits? Complement your coffee? Make your mashed potatoes as creamy as mom's? The New Milks has the answers.
The first section of the book provides instructions for making an incredible range of non-dairy milks, followed by suggestions for use. Then, dive into recipes for breakfast, lunch, and dinner; sweets and breads; and smoothies and drinks. Each recipe calls for the ideal type of non-dairy milk, and most list alternates, so you can tweak them for your dietary needs and taste preferences. From Mac and Cheese with Tomato "Bechamel" and Garlicy Breadcrumbs, to Orange Crepes, to Mexican Chocolate Pudding and Sweet and Creamy Coconut Chai, every recipe is dairy-free and kosher, the majority are vegan, and many are paleo and gluten-free.
Here at JOY of KOSHER, we are giving you a free sneak peak of our favorite recipes.  EnJOY...
STRAWBERRIES WITH PISTACHIO CREAM 
This nourishing dessert pairs red strawberries with pale green, luscious pistachio cream. It's also delicious with almond, hazelnut, or macadamia nut cream; follow the same recipe, just use different nuts. You can also try fresh blueberries or a mixture of berries on top. Make sure to use raw (not roasted) pistachios for a greener, fresher-tasting cream.    
Inspired by the flavors of India, this light golden pudding is rich and exotic. Since the cashew milk is naturally higher in fat, it barely requires the cornstarch.  
This super chocolaty milk is way more flavorful than the version you remember from childhood. To appeal to young kids, omit the spices.  
Want stories like this delivered right to your inbox? Sign up now for our *free* JOY of KOSHER Newsletter.